Enhance Your Veterinary Practice with Managed IT
Technology solutions for veterinary clinics and animal hospitals.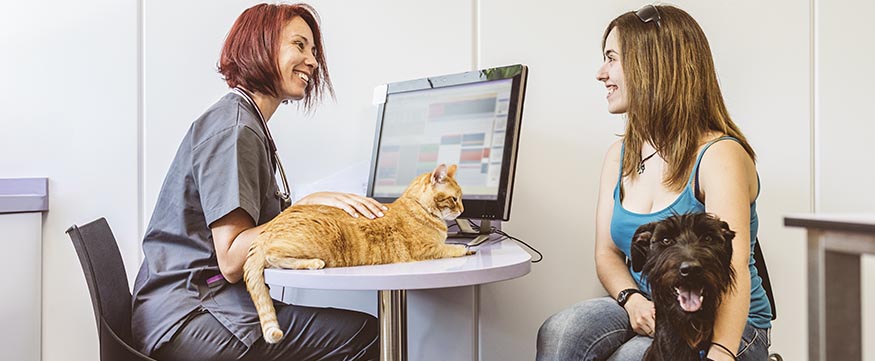 The right IT can make caring for your patients less of an administrative chore.

As a veterinarian, you care for people's animals. Let us care for the technology that assists you in doing so.
Managing a veterinary practice may sometimes feel more like you're managing a zoo--and that's before you factor in the animals. The IT requirements for the modern animal hospital or clinic are constantly shifting, adding stress to an environment that is already prone to stressors.
In order to do your job, you need to know that your IT is there to support you and your processes. Dresner Group can help ensure that's the case.
Improve your patient care while eliminating administrative hurdles with managed IT solutions.
With the managed IT services that Dresner Group can provide, you can be confident that you can rely on your technology when you need it. There are a few ways that working with us can benefit your veterinary practice:
Network Stability and Reliability - Our team will remotely monitor your entire IT infrastructure to ensure that all is as it should be, helping to prevent as much downtime as possible. Never worry that your practice management and diagnostic systems aren't going to respond the way you expect them to.
Security - While Fido may not be worried about their data's security, Fido's owner is likely to be more concerned. With Dresner Group keeping watch, your systems will have all of the requisite protections in place, supported by our monitoring services and comprehensive backups.
Mobility - As a veterinarian, you may sometimes have to take your practice on the road. Dresner Group can help you obtain and support the technology that allows your operations to go where they are needed without difficulty.

This is just the start of what we have to offer a veterinarian for their information technology needs.
To learn more about our services, reach out to us! Fill out the form on this page for more information or call us at 410-531-6727.