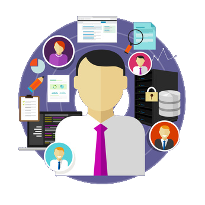 Let Dresner Group lead your technology initiatives with our vCIO services.
Dresner Group's vCIO (virtual CIO) services present an opportunity that many smaller organizations lack; access to the insights that a dedicated technology officer can provide.
Technology is often one of the more critical functions for your business' health. However, more often than not, technology receives little to no strategy, opting instead for the 'break and fix' model of IT investment. A vCIO or virtual Chief Information Officer can provide the direction needed to help your company make the most of its investment in technology.
By offering a vCIO service, Dresner Group continues its goal to provide enterprise-level service and solutions to small and medium businesses. The vCIO doesn't replace your IT supervisor or team, they supplement them. The goal of the vCIO is to provide the 30,000-foot view of how to best ensure your technology and business objectives align. Some of the services the vCIO provide are:
Strategic planning linking IT to business objectives
Insights of technology trends and best practices
Provide IT project planning and management
Development / Planning of the IT budget
For smaller companies, these crucial decisions typically come down to the business owner, who while talented, may not have the skillset to interpret the technology needs of the company. Moreover, they often are simply too engaged in day-to-day operations to dedicate the personal resources required to manage information systems and networks. The mission of our vCIO is to bridge the gap between IT administrator and operations manager, providing the information needed for business owners to make intelligent decisions regarding how best to implement their technology.
Our team will do a comprehensive assessment of your organization's technology and operations, allowing the Dresner Group to provide a personalized plan for your business. With this information your vCIO can develop a customized roadmap, directing your business to best utilize your technology budget more wisely.
If your business is looking for new and innovative ways to spend the capital that is earmarked for technology, the dedicated consultants and technicians of Dresner Group can help you discover the answers you need. Dresner Group's vCIO service offers the enterprise-level problem-solving technology solutions your organization needs, at a price that you can manage. To learn more, contact us today at 410-531-6727.