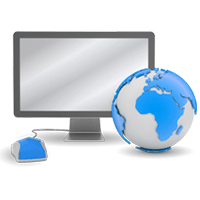 Dresner Group's managed IT services can provide the certainty that keeps your business competitive.
Now, more than ever, businesses depend on their technology to operate their business. In fact, it has reached the point in which your competitiveness can be tied directly to how effectively you manage your technology.
At Dresner Group we know that you are like other businesses, you have your fair share of horror stories. Whether it is a tale of malware fueled attack, downtime brought on by computer or network problems, or simply an issue with your IT team, Dresner Group is here to produce results you not only demand, but deserve. Our flat-rate service plan will deliver your company enterprise-level IT support and tailored solutions to relieve all of your organization's technology-induced pain points at a price you can afford.
Finally, You Can Budget Your IT
Predictable IT budgeting with a flat-rate service plan!
With our highly affordable managed IT services, you will never have to worry about the unexpected expense of repairing a network, workstation or compromised security problem again. Dresner Group provides multiple IT services and solutions to support your business with increase efficiency. These services are provided to you on a flat-rate, easy-to-budget plan, based on your needs. This results in value for you, unlike the common-place 'break-fix' model which is designed to cost you money. With Dresner's flat-rate model in place, no matter how costly the resolution to a technology-based problem is, you still pay a consistent monthly fee: as a result, a capital expense becomes an affordable operational expense, resulting in positive effect on your bottom line
Reduce Costly Downtime
Focus on you business, and not your IT!
Preparation is key to preventing downtime. Downtime usually occurs when businesses are unprepared for events, leading them to be reactive instead of proactive. In fact, chances are with Dresner's monitoring and maintenance solutions in place, we've prevented any instances from happening. When you utilize Dresner as your IT solution, it frees up many of your team members and allows them to focus on their jobs and not your IT.
We deliver efficiency! Since we catch most problems before they occur with our computer monitoring tool, there is no interruption of service and no downtime. When your software needs updating, it is done outside of regular business hours, ensuring your workstations are ready to go when your staff arrives for work.
By reducing interruptions from technical issues that plague less efficient companies, Dresner allows your organization to become more competitive. Our monitoring and maintenance services provide companies with avenues to be more efficient and exceed projections, which often leads to the potential for rapid growth.
Dependable Services You Can Count On
Dresner will be there when you need us.
At Dresner Group, we understand that things happen. Machines break down, team members click on the wrong link and water pipes burst. The question is, do you have a plan for when disaster happens? If you're lucky it will only cost you in downtime. However in today's data-driven business environment, such an event can be enough to close your business.
When you become a part of Dresner Group's managed IT services and support, you have access to always on call and available 24/7 services and solutions. In fact, our flat-rate model allows you the security of a balanced budget. Our services pay for ourselves in uptime and peace of mind. Some of our managed services include:
Network Monitoring and Maintenance
Comprehensive IT Support
Vendor Management
Security Solutions
Help Desk with Experienced Technicians
As a Dresner Group partner, you'll experience efficient and high-quality IT consulting and support.
Feel free to look around our site. If you would like more information about the flat-rate managed IT services provided by Dresner Group, please take a moment to fill out the form on the page or give us a call at 410-531-6727.