Comprehensive IT Support is Now More Important Than Ever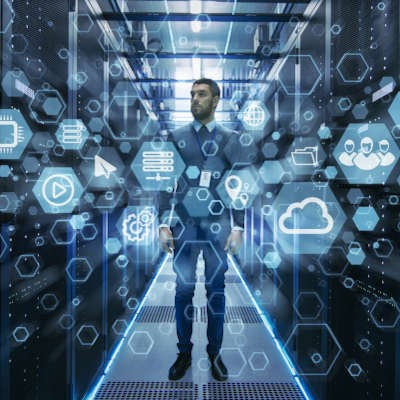 Comprehensive IT support can often be defined by an alphabet soup of abbreviations, acronyms and technical jargon describing the variety of services offered. While the different services an MSP offers can sometimes seem unrelated, in today's technologically-integrated business environment, all technology needs to be able to support each other. The goal of comprehensive support is to develop an environment which allows your business to leverage its technology. Here are three services comprehensive IT support offers that will benefit your business.
What is Comprehensive IT Support?
Now, more than ever, businesses depend on their technology to function. Now that many employees are working remotely, both your competitiveness and survival are depending on your infrastructure working smoothly. Unfortunately, many SMBs treat technology as a necessary evil as opposed to an investment which benefits their bottom line. When businesses consider 'tech support', they often consider using the break-fix method, unaware that it's only temporarily putting a bandage on issues.
Our comprehensive IT support approach is a series of services which are designed to help keep the technology your business requires to be competitive operating at optimal levels. With comprehensive IT, your technology is treated as one ecosystem as opposed to individual pieces of equipment. Doing so allows your business to develop a short-term and a long-term plan to enable your technology to have maximum uptime, while ensuring your data is secure.
When you invest in comprehensive IT support, your managed IT service provider (MSP) considers how each piece of equipment and software interacts with each other and how they impact productivity. Here are the three basic services which make up our comprehensive IT support strategy.
Monthly Flat-rate Support and Solutions
Sooner or later your technology will fail and as is often the case, it will fail when and how you can least afford it to: in time and resources. Comprehensive IT support focuses on preventing the downtime and unexpected expenses from hardware and software failures. Comprehensive IT means you can finally budget your IT because it minimizes issues and sees potential problems before they get in your way and start costing you money.
When you outsource your IT to Dresner Group, you gain access to always on-call and available 24/7 services and solutions. The flat-rate model pays for itself in uptime and peace of mind. Some examples of managed services include:
Network Monitoring and Maintenance
Comprehensive IT Support
Vendor Management
Security Solutions
Help Desk with Experienced Technicians
The advantage of having a flat-rate service plan is that it delivers enterprise-level IT support and tailored solutions to relieve all of your organization's technology-induced pain points at a price you can afford.
A Strong Focus on Network Security
Protecting your network from cyberattacks has become critical to ensuring your data remains safe. In fact, as more states, including Maryland, increase the penalties for data breaches, network security should be a main area of concern. While a business continuity plan is a great safety net in case your network becomes compromised, you should focus on preventing your data from becoming at risk in the first place. Comprehensive IT support provides a wealth of security solutions to protect your data.
Network Security: Securing your network has to be at the top of your organization's list of priorities. Network security is a crucial part of comprehensive IT and is designed to keep threats out of your network. This reduces downtime which can occur with successful cyberattacks and provides your staff with a robust and functional IT infrastructure. Some network security services include monitoring and management, unified threat management (UTM), and mobile device management. A mobile device management plan will prevent your BYOD strategy from backfiring.


Staff Awareness Training: While technology can be powerful tools to maintain security, if your team isn't trained to recognize threats, your data isn't truly safe. Social engineering schemes such as phishing, baiting and pretexting among others, take advantage of human nature to gain access to sensitive information. Your team is your greatest asset. As a result, when you provide them the information needed to be at their best, your organization will be the best it can be as well.


Physical Security: While it's popular to focus solely on digital security, the reality is that there is value in having a door with a lock on it. Physical security solutions work to mitigate risk, and put the damper on potential threats, by adding a physical barrier between potential intruders. Digital signage, access control systems and digital cameras provide the level of physical protection needed to keep your business secure.
Develop a Business Continuity Plan
Right now, most businesses in the United States have been forced to deploy some level of continuity plan to deal with the COVID-19 pandemic. Some businesses have continuity measures in place to help soften the blow of the current events, and others are relying on sheer luck. What we are seeing right now is a perfect example of why it is critical to be prepared.
Normally we talk about disasters like drive failure, natural disasters, and cyberattacks, but any disruption of business is considered a disaster scenario. Having flexible infrastructure, solid documentation, and a continuity plan that is reviewed and rehearsed regularly will make all the difference in this type of situation.
Nearly 60% of businesses that lose their data quickly go out of business in six months. Comprehensive IT support offers data recovery, part of what is called a BDR. Maintaining a comprehensive backup and disaster recovery strategy is one essential component of a solid business continuity plan.
While most businesses practice some form of data backup; the goal of a BDR goes beyond just backing up your data and also puts as much effort in retrieving your data. Make no mistake, your business absolutely needs a BDR to get back up and running as quickly as possible after a critical event. An effective BDR solution will leverage the most current technology, in this case Cloud Computing, to redundantly and remotely backup your data.
Finally, in keeping with best practices, your data needs to be stored away from your primary location to provide safe and secure recovery. Before you commit with a managed IT provider offering BDR, ensure they are utilizing best practices to keep your data safe. If you're a Maryland business, data recovery should matter to you.
Dresner Group's wide range of professional IT technicians and services can help manage and support your organization with IT that just works. For more information, give us a call at 410-531-6727.
Comment for this post has been locked by admin.
By accepting you will be accessing a service provided by a third-party external to https://www.dresnergroup.com/