Five Benefits of Moving to a Virtual Server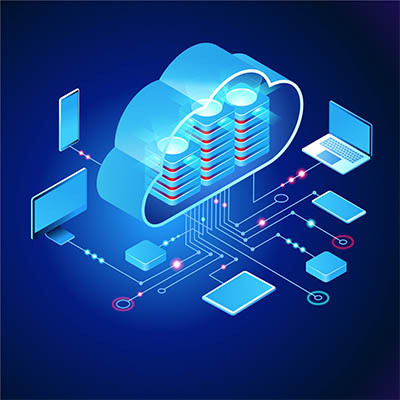 Most businesses hope that technology will allow them to be more productive, due to increased efficiencies, automation, and putting important data at their fingertips as they need it. One step towards achieving this is by moving away from the traditional server infrastructure and considering cloud virtualization. Here are five reasons why virtualization benefits your business.
First off, What is Cloud Virtualization?
We need to break down what virtualization is first.
Virtualization is where you take a physical server and package it up as software so it can run on any hardware. While from a technical standpoint, it is more complex than that, it essentially frees you from having one or multiple expensive servers on premises, and allows you to consolidate servers either within your office or in the cloud. Three dedicated servers could be set up to run on a single piece of hardware in your office, or they could be moved to the cloud and managed in a data center.
Five Benefits Server Virtualization Brings to Your Business
Help Your Business Cut Costs
There's no getting around it, maintaining your servers can require a considerable investment in resources. Investments in hardware, investments in environmental controls, investments in management and maintenance, and of course in physical office space, as you need room to store your servers. When you invest in virtualization, the majority of these expenses are reduced or even eliminated.
If you can consolidate multiple servers into one, you'll reduce your overall footprint. It might require an initial investment of hardware, as well as time to migrate and consolidate your servers into a single device, but the long-term gains can be significant.
If you are moving your servers to the cloud, you can count on saving even more, especially on the initial investment.
Get Up and Running Faster
Installing a physical server can be a time-consuming endeavor, ultimately resulting in a long, and expensive onboarding process. You or your IT department orders the server, waits for the hardware to arrive, and integrates it into your infrastructure. Next, you'll have to spend time installing the operating system and applications, checking for incompatibility with your existing system before it can be used.
Finally, you have to invest in racks and cables, environment controls and most importantly, reserve a dedicated space to store the server, with all the additional support you need to maintain the systems.
While you still need that if you are hosting several virtual servers on premises, by migrating everything to the cloud, you can almost completely do away with the more expensive infrastructure on your network, or repurpose what you have for other tasks.
Here's another example though: let's say you want to implement a new line-of-business app, or test out a new one while still working in the older application. Normally, you might need to deploy a physical server just to run the new application on. With virtualized hardware, you can spin up a virtual machine on your existing server (provided you have enough computing resources), and run it in a test environment in tandem with your current applications. This means it's easier to test software, easier to have a soft launch, and easier to make decisions overall without worrying about it costing an arm and a leg.
Reduce Your Physical Footprint
Traditional servers require physical space, sometimes a lot of it. This space must be dedicated to storing your servers, limiting the amount of space your business can otherwise utilize. Keeping physical servers also requires additional mitigation steps, such as environmental monitoring and controls, to maintain these servers.
Due to the space requirements of a traditional server environment, if you need to increase the number of servers your business utilizes, you will also have to increase all the support systems—including temperature controls, environmental sensors, and how much space you need to store your servers.
Expansion isn't as much of an issue with virtual machines, provided you have the computing resources to handle them within your existing hardware (or you can spin up additional resources in the cloud). This means you can multiply the number of available servers you have without needing to create extra space and invest in additional support systems as you would with a physical server. Investing in a virtual server can reduce the amount of office space and the associated expenses that come with supporting a larger working environment.
Reduce Your Carbon Footprint
Physical servers produce a lot of heat, and as such need robust temperature controls in place. Most notably, air conditioning. In addition to air conditioning, your server room needs protection against a wide range of threats, such as water, electrical surges, and (of course) human error. All of this can increase the amount of energy needed to protect your servers. A virtual server, on the other hand, can eliminate or at least reduce the amount of energy you would have needed to invest to protect a physical server.
Give Your Business a More Efficient Recovery
As ransomware attacks and other cybersecurity threats continue to increase, the most effective tool businesses can have to protect their data is their backup. However, your backup is only the first part of the equation. The second part is the ability to recover your data as quickly as possible. Virtual servers are extremely easy to backup and restore, or spin up in other environments. This means that a hardware failure or ransomware attack can typically be mitigated relatively quickly, keeping your team working while the problem is resolved.
Consult the Cloud Computing Experts
If you haven't realized it yet, virtualization's benefits are amplified within the cloud, which is why it is essential that whoever you partner with to manage your IT is also familiar with the tenets of cloud computing. As we often discuss, cloud computing provides a wealth of benefits to your organization, especially organizations requiring that their data remain secure and retrievable over long periods. If you're in the legal, medical, or accounting industries, cloud computing can benefit your business.
Call (410) 531-6727 today to learn more about virtual servers or cloud computing; contact Dresner Group to schedule an appointment. We're Columbia's premier technology provider for business, and our managed IT services are designed to increase the productivity, efficiency, and bottom line of Maryland businesses like yours.
Comment for this post has been locked by admin.
By accepting you will be accessing a service provided by a third-party external to https://www.dresnergroup.com/