Maryland's Historic Agricultural Industry is Under Attack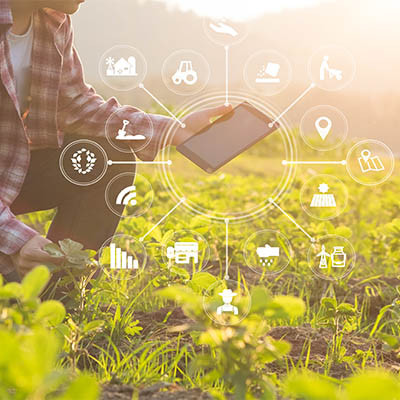 Ransomware, and more specifically those who maliciously deploy and spread it, are shamelessly tactical in the industries targeted in their campaigns. Let's examine how Maryland's agricultural industry is at great risk of a malware attack, and why this is.
First off, it will help to have some context into the influence that Maryland's agricultural industry can yield.
The Scope of Agriculture in Maryland
Ever since the state was founded in 1634, agriculture has been a cornerstone of Maryland's economy. Today, it involves crop production, livestock and dairy production, horticulture and nurseries, poultry, honey, wineries, and vineyards. As such, it is currently Maryland's largest commercial industry and is responsible for the employment of approximately 350,000 people. All taken into account, agriculture provides $8.25 billion each year to the state's economy.
Clearly, agriculture plays an important—critical—role in the state of Maryland. This is to say nothing of the importance of the industry to the United States as a whole… the businesses that make it up account for a full fifth of the national economy.
This makes it a truly valuable target for cybercriminals. Unsurprisingly, cybercriminals have not hesitated to take advantage of the opportunity this presents, as the recent attacks on the meat processing and packing company JBS and various water treatment plants have proven.
How Much Risk Does Maryland's Agriculture Face from Cybercrime?
In no uncertain terms, a lot.
Because agriculture now relies heavily on information technology to keep production at the levels needed to meet demand, there is ample opportunity for it to be attacked. This is only exacerbated by the lacking security controls that many businesses in the industry suffer from.
Consider how much technology is currently used to support the creation of agricultural goods today, and how much damage any further efforts could cause. It cannot be more clear that protections are required if these kinds of events are to be avoided.
What Does a Cyberattack Look Like for an Agricultural Company?
One of the biggest problems with cybercrime is that, from the perspective of the cybercriminal, threats are one-size-fits-all. The same types of attacks can work against offices, manufacturers, medical facilities, municipalities, and virtually any other business. While cybercriminals are tweaking their tactics to get the highest yield from certain industries, they know that their biggest potential score comes from interrupting the day-to-day operations for businesses where smooth operations are critical. The biggest threat in the cybercriminal's arsenal is ransomware.
Ransomware works by rapidly infecting the computer, and often spreads throughout the network, infecting every computer or server it can get to. It encrypts files. In other words, it locks your files and data away so you can't access anything. If you want your files back, you're given a short window (48 hours, 24 hours, 4 hours, etc.) to pay a ransom. This ransom could be a few hundred dollars, or it could be a hundred thousand dollars. Failing to pay the ransom could result in your data being deleted, stolen, or the ransom going up.
Paying the ransom is typically not a good idea. It only entices criminals to keep using this tactic. Plus, there is no guarantee that they will actually give you your data back.
Your best bet is to prevent ransomware from infecting you in the first place, which is done through a combination of hardware and software cybersecurity tools, proactive maintenance and management, staff training, and taking a security-first approach to all of your technology.
We Can Help Businesses Implement these Needed Protections
If you want to keep your agricultural infrastructure secured against these kinds of threats, preserving your productivity with more success, reach out to us. We can put these protections and more into place. Give us a call at 410-531-6727 to find out more.
Comment for this post has been locked by admin.
By accepting you will be accessing a service provided by a third-party external to https://www.dresnergroup.com/