Microsoft Surface: Productivity Powerhouses for Your Remote Employees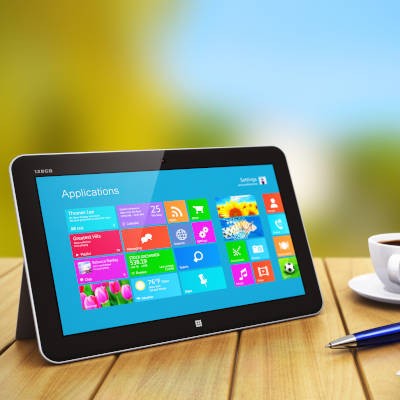 As Maryland businesses continue to adapt to a challenging work environment, many of them are reevaluating what type of technology they are investing in. Instead of purchasing a traditional desktop or even a laptop, many are looking to high-end devices that serve as portable workstations. The Microsoft Surface line of devices stands out from the crowd. Not only do they offer a great bang for the buck, but they also give your remote workforce the flexibility they need to get the job done.
What is the Microsoft Surface Line of Devices?
Released by Microsoft in 2012, the Surface line of devices are not quite tablets, and not quite laptops. As hybrid devices, Microsoft Surfaces allow the user to separate and connect the screen to a keyboard, creating either a tablet or a laptop experience as needed. There is a line of Surface products that are more laptop-like, where the keyboard is permanently attached as well.
Most importantly, these devices tend to be as powerful as decent modern desktops. In fact, until you need some serious hardware for things like gaming and video editing, most of the Surface line tends to hold up to pretty much any task you throw at it.
Using the touch screen with a pen enables the user to write and draw on the screen. This expands the device's functionality, transforming it from a simple input device to a full-featured communication hub. While there are a variety of options, here are the most popular devices:
Surface Go
As the most affordable Surface option available from Microsoft, the Surface Go is a smaller, lighter, and less powerful version of the Surface Pro 7. The Surface Go is, as its name suggests, designed to be used on the move. The 2-in-1 Surface Go has more than enough oomph for casual internet use, such as web browsing, correspondence, and word processing.
Surface Pro 7
When most people think about a Surface device, this is most likely the first thing that comes to mind. A unique and versatile computer, the Surface Pro 7 is a hybrid device that operates like a tablet and a laptop. With a variety of features, most notably the surface kickstand, HD camera and pen, the Surface Pro 7 is Microsoft's most popular 2-in-1 device and is perfect for mainstream users and even designers.
Surface Laptop 3
The Surface Laptop 3 is a 13" to 15" dedicated Ultrabook, and unlike most Surface devices, it is not a hybrid. While its screen is not detachable, it does have a touch screen, a Microsoft Surface signature feature. The Surface Laptop 3 is a light-weight, well-built, and affordable notebook computer. As such, it is an excellent option for users who do a lot of typing and desire a more traditional laptop experience.
Surface Book 3
Designed for power users and on the higher-end of its Surface offerings, we have Microsoft's Surface Book 3. It comes in two screen sizes, 13" and 15", and like the Surface Go and Surface Pro 7, the Surface Book 3 is a 2-in-1 hybrid device. However, unlike the other two hybrids, the Surface Book is designed to be a full-featured device with a wide array of features and performance with a price point that reflects this. If you're looking for a desktop replacement with all the advantages of a Surface device, an appropriately configured Surface Book 3 will fit the bill.
More Microsoft Surface Devices to Consider
The few devices mentioned are just the tip of the Surface ecosystem; there is a Surface to fit any business and user. If you need a device with LTE in addition to Wi-Fi, so you're always connected, there's a Surface for you. If you work in graphics or video, Microsoft has you covered with the Surface Studio 2 and there's even a new mobile device, the Surface Duo.
How Microsoft Surface Can Benefit Your Business
As Maryland businesses continue to adapt to a post coronavirus business environment, they and their team need to be more nimble, finding new ways to communicate, collaborate, and be productive. It's fair to say that if your business relies on a remote workforce, flexibility is now a requirement, not a luxury, and Microsoft's range of Surface devices offer it.
Flexibility: As a hybrid device, Surface allows for the type of versatility that your business craves. The Surface Go and Pro 7 solve weight and battery life, which plague most laptops. Moreover, they have high-quality webcams that are perfect for video conferencing, and the detachable tablet means you can take it anywhere.
Microsoft built-in: As Microsoft native devices, all Surfaces are optimized for Office 365 and Windows 10, reducing issues of compatibility while capitalizing on Microsoft's ecosystem of applications.
Mobility: Portability is a central focus when discussing your remote workforce, who, while working from home, may occasionally need to stop by the office or get on the road. Weighing, on average, 2 to 6 pounds, a Surface device won't slow your team down as they chase leads. Moreover, depending on the device, Surfaces have some of the longest battery life in the industry, giving your team power all day and plenty of uptime.
Which Surface is Right for Your Business?
Not sure which Surface is right for your business? Are you a team of road-warriors who need to be nimble and quick? Number crunchers who live in spreadsheets, creative types who need raw power and a large screen, or just your average Jack-of-All trades? Don't worry, there's a Surface for you, and we can help you find it.
As Maryland's premier Microsoft Certified Reseller, Dresner Group has nearly two decades of experience providing tried and true products and services to our clients, including the latest and greatest Microsoft products. Serving Columbia, and surrounding locations, we're here to help you acquire the right tool, for the right job..
Our Microsoft-certified IT engineers will do what they can to ensure that your business reaches unprecedented success and has the right tool for the right job. For more information about Microsoft's Surface devices or any Microsoft product, contact us at 410-531-6727 today. We'd be happy to help you choose the best solution for your unique business needs and goals.
Comment for this post has been locked by admin.
By accepting you will be accessing a service provided by a third-party external to https://www.dresnergroup.com/