Some Maryland Businesses are Straining Their Technology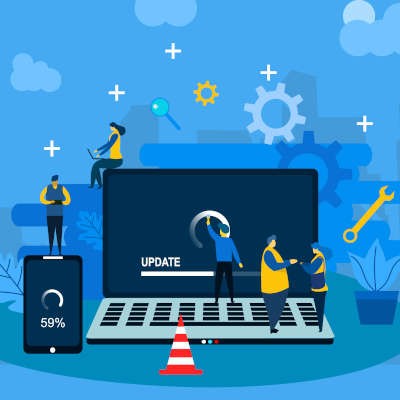 Over the last couple of months, many Marylanders have been at the mercy of technology that wasn't prepared to scale to pandemic-level proportions. Just one example is the Maryland Department of Labor website, which many users have needed to use in order to file for unemployment. While from an outsider's perspective the site was designed to streamline the application process, the technology has been less than reliable for many people who are struggling to file, simply due to the massive number of users trying to access it at once.
This has caused a lot of frustration, much of which is put out there publicly on social media. It goes to show that technology issues can lead to even bigger, more public-facing issues.
Clients and customers aren't always empathetic when it comes to technology issues. When your services or even a portion of your services are delayed or down, most clients are going to see that as a reflection of your overall business. Even small inconveniences could tarnish the relationship you have with a customer.
It snowballs into an even bigger problem when that frustration is taken online to social media and business review sites. Negative reviews on Google, Facebook, Yelp, and others can steer new potential customers away. Even if you manage to mitigate unhappy online opinions, it is better to prevent them in the first place.
There are a lot of situations that might feel "out of your control" that will require you to apologize to a client or prospect, or require you to do some form of damage control. Think about a crab shack running out of steamed crab at 3pm on the first day of tourist season - "we just didn't anticipate the rush" or simply "we're all out for the day, come back tomorrow" might quell the customers who show up for the rest of the shift, but there was definitely more that could have been done behind the scenes to resolve the issue. Of course, those patrons will likely go somewhere else, and some might not ever return.
These issues are worth preventing whenever possible.
When It Comes to Your Technology, an Ounce of Prevention is Worth a Pound of Cure
Very few technology issues are totally outside of your control, and even some of the more extreme cases can be mitigated. However without network monitoring, mitigation will always be behind the curve, reactive instead of proactive.
Let's use the Internet as an example. If your business absolutely relies on the Internet, and your Internet service goes down, there are measures in place to set up redundant Internet services ahead of time. It's up to you, as a business owner, to decide if you need to make that investment, but think about the costs associated with a day without it. You are still paying your employees, so the cost of half a day without the Internet might justify the ongoing cost of having a plan B.
Look at your entire network and the whole scope of your IT. This might include your phone system (VoIP), your CRM, access to your files, access to Office 365 or G Suite, access to Quickbooks, and much more. If any piece of that overall puzzle were to fail, it's going to cost you money in downtime, and possibly reputation with your clients and prospects.
That also means that if any piece of that can't scale as you need it to, and can't support you on your busiest days, it's going to cause an even bigger stir. Many businesses felt this struggle when attempting to allow their workforce to work from home - the infrastructure they had was only designed for a few users to work remotely, not the entire company, and upgrades were needed. In other words, with proper planning, closing your office doesn't mean you have to close your business.
Even at the base level, your network and all of your IT should be properly maintained to ensure uptime and detect potential threats and issues before they can cause an interruption to your day-to-day operations. Dresner Group offers a wide range of infrastructure support services, designed to be able to adapt to the current business environment, allowing you to remain ahead of the curve.
It's Starts by Auditing Your Network
We've mentioned it before - assessing your existing IT regularly is critical to keeping up with the status quo. There are very few IT-related situations that are so far outside of your control that you can't be prepared to minimize them. Everything from network outages to hardware failures to viruses and malware can all be prevented or alleviated through proper best practices, additional redundancy, or proactive monitoring.
Let's take a look at your IT, and determine where your weak points are. To get started with an IT Assessment, give Dresner Group a call at 410-531-6727 for a FREE, no obligation consultation.
By accepting you will be accessing a service provided by a third-party external to https://www.dresnergroup.com/