As Maryland Businesses Open Up, Architects are in Demand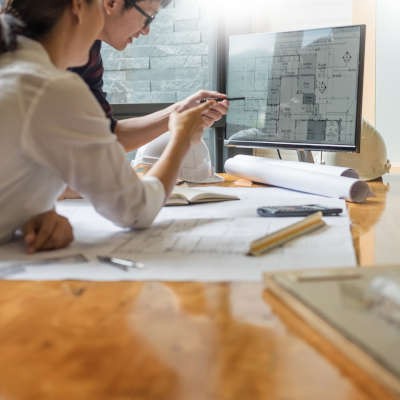 As Maryland businesses continue to open back up, how they utilize office space (and commercial space in general) needs to change to enforce social distancing standards. For businesses to remain safe AND be successful, it will sometimes require more than just pushing desks 6 feet apart, it may call for a redesign of their offices. If you're an architect, your services will be in demand. The question is, can you meet the challenge?
Maryland Businesses are Reevaluating Their Office Space
While the open-plan office design and other elements of modern office design such as shared common areas and even soft furnishings once dominated the contemporary office, COVID-19 and the corresponding social distancing rules have caused these concepts to be reconsidered. These changes may require more than moving desks and adding hand sanitizer stations, but something more substantial; to redesign office spaces to better comply with social distancing, such as:
Creating physical barriers between team members and/or customers
Changing structures to those that are less porous and easily cleanable
Adding visual reminders to enforce social distancing, such as floor markers
Investing in interior design elements and layout
Not only is it important to establish these new concepts to promote the health of employees, it also serves to create a safer feeling in general for customers.
As businesses continue to open, many find they are unable to implement the changes needed without outside help. This is where architects come into the picture.
Architects Have to Adapt, Too
Just as the businesses you support must adapt to a post-coronavirus way of doing business, your architectural firm must also embrace innovation when engaging with your customers. While your expertise may make it easy for you to redesign your office space to be conducive to social distancing, you may find yourself struggling to develop technical infrastructure. This infrastructure is needed to provide your customers with the services they need while following social distancing best practices.
This includes going digital - reviewing floorplans remotely, gathering and presenting information with as little human contact as possible, and performing jobs more efficiently to keep expenses down.
Security is More Important Than Ever
A side effect of transitioning the majority of your work product online is that you expose a more significant percentage of your data to risk. This is why you must ensure your security, including cybersecurity protocols, are up to snuff. Something to consider is that your team's attention to security best practices will be based on the training level they have had. Quite frankly, the lack of security training is putting businesses at risk. You need to invest time in training your team.
Hardware and Software
As with many businesses striving to remain relevant, architectural firms' need to rely on technology has come to the forefront as a primary means to be productive. Moreover, due to the nature of your industry's software and hardware needs, you need to be sure your systems can perform at the levels required. One option to consider is investing in cloud solutions such as a hosted server, document management, and other cost-effective and scalable options that can allow your business to continue to grow. If you've been waiting for the world to settle down a little before doing that big IT upgrade, you might be better off looking to the cloud to switch that big capital expense into a more nominal operating expense.
Team Collaboration
As working remotely continues to dominate the conversation regarding businesses remaining productive, your architectural firm must be remote-ready. A critical part of being remote-ready is ensuring your team and customers can communicate with each other as seamlessly as possible and at least at pre-coronavirus levels.
Some solutions you should consider investing in to facilitate communication and collaboration between your team and customers are cloud-centric. These tools, such as video conferencing, VoIP, and productivity tools, including Microsoft 365 and G Suite, offer a wealth of advantages.
Finally, cloud computing is a valuable asset to your business because it allows your team to access and share information they need, anywhere, on any device, and build an integrated culture of collaboration that maximizes productivity.
Ensure Redundancy
With so many team members working remotely, there are increased concerns that your data is not only protected, but preserved. It is critical that your business has a BDR plan in place, particularly as your team is no longer working in a centralized environment. Moreover, despite your best efforts, there is always a possibility your data will become lost or inaccessible due to disaster or cyberattack. A business continuity plan will provide the solution you need to keep your data backed up and recoverable, giving you peace of mind.
Can Your IT Support Your Reopening?
While there is an understandable desire for businesses to open up and get back to normal as soon as possible, we are now living in the new normal. Things will not be going back to the way they were pre-coronavirus. This means that the way you have operated your architectural firm in the past may no longer be feasible. Despite the understandable urgency to reopen, you need to take the time to get things right.
For example, If you're going to start taking credit card payments online, you need to ensure that your business is PCI DSS compliant or you won't be able to take the payments securely. If your office is going to be spreading out to comply with social distancing, you may need to examine whether your wireless network is sufficient to support your staff in their new locations in your office. Does your remote team have the tools they need to optimize productivity while working from home?
Those are just a couple of things to consider as you increase your capacity. Remember, your team and customers have been through a lot during this crisis, and are counting on you to get it right. You may not get it perfect, but it shouldn't be because you didn't give it your best shot.
If your architectural firm isn't remote-ready or needs an IT audit to see exactly where you stand in regards to reopening, call the IT experts at 410-531-6727 today.
Comment for this post has been locked by admin.
By accepting you will be accessing a service provided by a third-party external to https://www.dresnergroup.com/