Automation is Everything for These Maryland Industries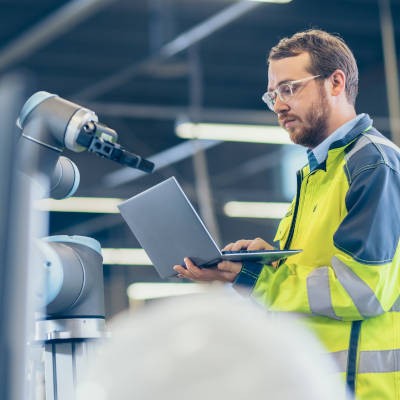 Nobody loves business buzzwords. From "growth hacking" to "synergy," there are a lot of frequently used, overly vague terms that, when you get right down to it, just get in the way of getting things done.
That said, one term that you'll often hear consultants and entrepreneurs alike shout from the mountaintops is automation, and automation is one buzzword that can have a massive impact on your business.
What is Automation?
Simply put, automation is when you deploy a system or a process to take some of the labor out of a task. It's far from a new concept. When Henry Ford introduced the first moving assembly line to mass produce cars, he was automating. Before this innovation, Ford's Model T took over 12 hours to manufacture. With automation (assembly line) it brought the manufacturing time down to two and a half hours.
Automation can happen in many ways. Think of it as a shortcut to get the same or more output with less work involved.
Examples of Automation at Dresner Group
We live and die by automation to help us perform at peak capacity for our clients. Here are just a few ways that we streamline our operations in order to maintain and protect our clients' networks:
We painstakingly document everything and utilize advanced software to track our work so nothing needs to be committed to memory, and historical knowledge is just a few clicks away. In fact, we document everything from the very initial sales call all the way through the entire relationship.
We utilize high-end, enterprise software that helps us monitor every device on a network to determine issues before they have an effect on your bottom line.
We build processes - detailed task lists that allow us to quickly handle complicated projects with many intricate steps. This eliminates a huge amount of guesswork when it comes to deploying software or a device that we don't work with every day (and the ones we do use every day), and ensures that all technicians follow the same steps every time.
We utilize scripts to handle software deployment and updates so we don't need to manually sit and click through the install process.
These are just a few ways that we streamline the amount of work we have to do, without sacrificing the quality. In fact, most automation techniques tend to increase the overall quality of a product or service, not just the quantity of the output.
Automation is Paving the Way for Many Maryland Industries
Here are a few examples of industries that are thriving from different types of modern-day automation (and trust us, there are plenty more using it right now). By understanding the Internet of Things (IoT) and the Industrial Internet of Things (IIoT), you can better take advantage of automation.
Agriculture
The farming industry relies heavily on efficiency. Even a small incremental increase in output can make a big difference, and the same goes with a small decrease in labor for the same output.
The future of farming is in smart devices, such as self-driving tractors, autonomous vehicles, robotic harvesting systems, and other implements.
"Smart" farms are utilizing drones to monitor field conditions and even apply fertilizers. Smart sensors can measure water, temperature, and other metrics to help farmers get detailed reports on their entire crop remotely.
These technologies sound futuristic, but they are helping farms reduce labor costs while optimizing the output in order to put food on our plates.
Mining, Oil, and Gas Extraction
Drilling operations require collecting a lot of data in order to be effective and safe. Automation software can constantly collect and monitor this data.
Speaking of data, thanks to machine learning and big data, the oil and gas industry can take data from a specific site and compare it with data collected all over the world. These systems can massively improve efficiency and safety while identifying potential issues that need to be circumvented.
On top of that, automation can help improve supply chains, workforce deployment, and equipment maintenance. If the right resources aren't available for the job, it won't be nearly as profitable.
Construction
The construction industry is another case where advanced technologies and data can optimize and streamline jobs. Construction projects are expensive, meticulously budgeted, and usually on strict timelines. Worst of all, labor is scarce, and this is where artificial intelligence can play a role.
Moreover, drones can be used to survey and conduct site inspections and in some cases, have even been used for inventory management.
Automated equipment can perform the same job with less onsite labor. This might include pre-fabricated materials as well, but advanced equipment with the right software can reduce the time it takes to do the job. "Smart" excavators, multi-function bridges, and 3D-concrete printers are building a bright new future for the construction industry.
Healthcare
The biggest automation boosts for the healthcare industry right now revolve around data and communication. The healthcare sector has been in a very manic state (from the bottom of our hearts, thank you to all of the healthcare professionals who have been working so hard to keep us healthy during the pandemic). Efficiency and accuracy is everything, but never forget, so is HIPAA compliance.
Healthcare automation can involve handling the scheduling and optimization of appointments. Software can easily handle schedules, allocate resources, and maximize the capacity of your facilities and resources. This automation software can also handle appointment reminders and cancelations with patients, which is one less task for an employee to handle. A great example of this type of automation is Electronic Medical Records (EMR), which are moving healthcare forward.
Of course, the healthcare industry also needs to focus on compliance, and with the right automation in place, user error can be prevented. The question is are you taking HIPAA seriously? The goal is to allow doctors, nurses, and other staff to perform their jobs, not handle administrative tasks.
Looking to streamline your operations? Give Dresner Group a call at 410-531-6727 to talk about how your business can automate!
By accepting you will be accessing a service provided by a third-party external to https://www.dresnergroup.com/