CPAs Can't Relax Their Cybersecurity Even Though Tax Season Is Over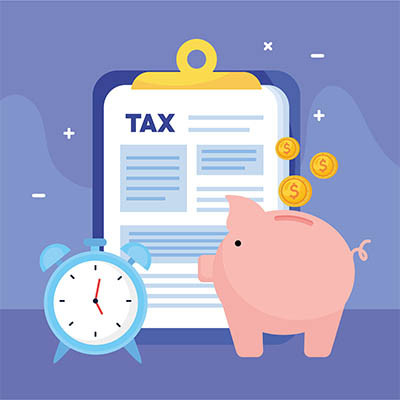 As the tax season ends, many financial institutions and professionals alike take a breather. Unfortunately, now isn't the time to let your guard down. As cyberattacks increase in frequency, you need to make sure you are doing everything you can to protect your clients' data.
How Secure Is Your Network?
We're not just talking about a good Wi-Fi password, either.
If you're a CPA, lawyer, or other financial professional, tax season is the most stressful time of the year. While it is tempting to have a sigh of relief once you've filed your clients' tax returns, the reality is your responsibility to protect your clientele's data is just beginning, not ending. For example, if you're a tax preparer, you're expected to retain your clientele's tax records for at least three years. This begs the question; how are you storing your data? Are you using the 3-2-1 method to back up your data? Are you using consumer-level cloud services designed to ensure that your documents and data are archived professionally?
Your answers to those questions and a dozen others will determine whether or not your business has the tools in place to safeguard your client data according to best practices concerning data security. Some best practices should include:
How are you communicating with your clients and team?
Are you using 2FA, and how many people have access to your data?
How are you backing up your data, and do you have a data recovery plan in place?
Why Should You be Concerned About Data Protection
Recent ransomware events have placed a heavy burden on businesses responsible for managing the financial information of others to be forever vigilant. Organizations, regardless of size or industry, continue to be under attack. Moreover, with Maryland requiring better accountability for securing customer data in the form of PIPA, your business can't afford not to have a robust cybersecurity plan in place. Managed IT is the best way to implement one.
We Can Help Protect Your Data
Unlike tax preparers, cybercriminals don't have a busy season nor a day off. Cybercriminals are constantly searching for opportunities to gain access to data, and while financial information is considered a valuable target, no industry is safe from attack. Unfortunately, due to misconceptions towards cybersecurity, Maryland businesses continue to be at risk for a cyberattack. However, proper IT management provides the solution to keep your data safe.
Our managed IT services will protect your data by treating all aspects of your technology as part of the whole, instead of individual elements. By not recognizing, for example, the link between spam protection and data breaches, organizations are unable to develop the type of robust cybersecurity plans needed to prevent cybercriminals from gaining access to sensitive information. In other words, we look at the whole picture, including the smaller stuff. It's really the only way to prevent a lot of these attacks. Some ways we assist with data protection include:
Cybercriminals Aren't Taking a Breather, and Neither Can You
Unfortunately, not even a pandemic will slow down bad actors who are determined to compromise your data—it's only gotten worse over the last two years. Any business, regardless of industry or size, is at risk. This means that your organization can't assume that you won't be a target because you're smaller. The majority of cyberattacks are waged against small to medium-sized companies.
Maryland accounting firms, it's time to stop thinking it won't be you because if you think it won't, you're ensuring it will be. Now is the time to invest in data security, particularly as you're responsible for managing your customers' financial information. Dresner Group is Columbia's cybersecurity expert and familiar with the technology needs of CPAs and accountants.
If you're unsure about the status of your compliance, or computing infrastructure, call 410-531-6727 today.
Comment for this post has been locked by admin.
By accepting you will be accessing a service provided by a third-party external to https://www.dresnergroup.com/