Even Small Businesses Should Consider Physical Security Keys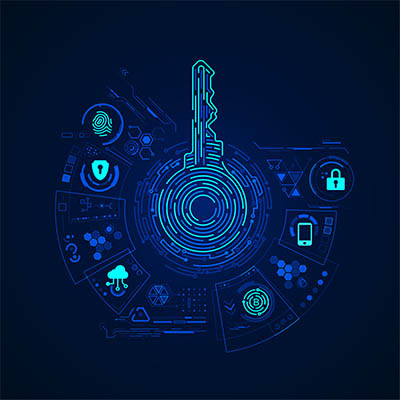 With new crisis-level cybersecurity events making headlines, it's easy to assume that smaller businesses aren't at the same risk level as larger enterprises. However, most common attacks don't care who gets hit. There is also plenty of evidence pointing out that smaller businesses are at an even higher risk—you just don't hear about them on the news.
The trouble is, cybersecurity is complex. Long gone are the days where having antivirus and setting up a firewall were enough. Not only do businesses need the security infrastructure (and need to take care of it), they also need to enforce users to be safe. Right now, end users are the biggest weak point for most organizations, and cybercriminals know it. That's why tactics like phishing—where legitimate-looking emails trick users into handing over sensitive information or downloading infected files—are causing the most harm.
Why a Cybercriminal Will Target Your Team Members
Let me ask you a hypothetical question: let's say you were trying to bypass a locked door (that you were very much not supposed to bypass). Which approach sounds like the easier one to take?
You spend a lot of time and money beforehand learning how to pick locks, eventually learning how to do so, and just hope that nobody notices you doing it.
You pretend to be someone who needs access to the room and ask someone for assistance, which they give.
This is the difference between a hacking attack and a phishing attempt. Rather than relying on their own computing knowledge, a phishing attack is one where a hacker simply pretends to be someone or something they are not so that your team members hand over what is asked of them. Often resorting to fear tactics to encourage their targets, this underhanded and not-often-expected form of attack has proven itself effective enough to be adopted into the mainstream hacking playbook.
The other frustrating thing about phishing is that many otherwise reliable security measures can potentially be bypassed with ease, due to social engineering and unfortunately your team. If someone was trusting enough to pass along login credentials, they will certainly be willing to send the correct authentication code right along after them. Furthermore, the security of a password management system will do little to stop an authorized user from sharing one of the credentials stored within it.
As you can imagine, this creates a significant security problem.
Solving the Phishing Problem for Maryland Businesses
So, at least as far as phishing is concerned, if they can't recognize a phishing attempt, your team members are your biggest vulnerability. It is worth mentioning, however, that this doesn't have to be the case. Your team also has the potential to be one of your biggest security assets. You just need to be sure they are trained to do so.
This is largely accomplished through regular training. By educating your team members (including yourself) about phishing, in terms of identifying it and properly mitigating it, you are preparing your business in advance for security events of all kinds. Regularly reviewing the lessons learned during this training will help to reinforce its importance and make it more of a natural reflex should the situation arise.
Another solution is to adopt physical security keys. In this context, a security key is a special device that serves as a form of two-factor authentication. Once a username and password is provided, the user would activate their key. This prompts it to provide the necessary authentication. Considering the recent rise in phishing attacks, they have become a recommended safeguard for many, and maintain compliance with many security regulations.
One way or another, it's critical that your team members are aware of the phishing problem. Moreover, it is essential that your organization understand that the best way to fight phishing means investing in a comprehensive cybersecurity plan. Dresner Group can help in that regard. Reach out to us to learn more about the threat of phishing and how to make sure you are ready to handle it. Dresner Group is committed to protecting your business, your staff, and your customers. Give us a call at 410-531-6727 today.
Comment for this post has been locked by admin.
By accepting you will be accessing a service provided by a third-party external to https://www.dresnergroup.com/