Has Your Business Gotten Comfortable With COVID?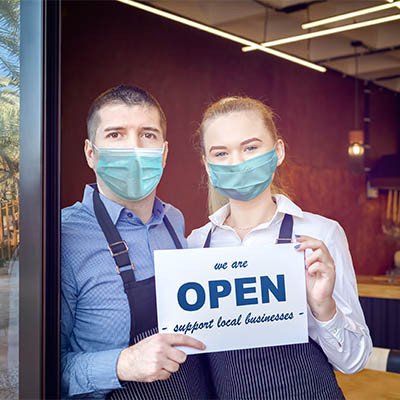 Unfortunately, COVID-19 cases are going back up, with over 21,000 cases here in Howard County alone at the time of writing this (September 2021). As we see this resurgence, it seems foolish not to consider how it might impact businesses and how they are able to operate. Regardless of whether or not you prepared your business to operate throughout the first wave, you need to do so this time.
Let's go over what you need to be sure to plan for, under various strategies and circumstances:
If Your Team is Coming Back to the Office:
If you have your team returning to the office for in-house work, there are naturally a few health precautions you need to take for their safety:
Make sure there is a constant supply of hand sanitizer and other disinfectants available.
Do everything you can to maintain social distancing within the office.
With masks still mandated in county buildings, you may want to consider requiring them in the office.
On the operational side of things, there are multiple considerations you should make.
Reinforcing Cybersecurity
While everyone in the office will understandably have a lot on their mind, you really have to make sure that your organization's cybersecurity practices, like their password standards and their use of multi-factor authentication, don't slip. Remind your team members of the assorted risks out there—phishing, spoofed links, and the rest of the usual suspects—and hold them accountable. Of course, it is also important that your reminders include a review of the best practices that they should be following to help them reinforce your security.
Reviewing Access Controls
A return to the office is also an opportune time to review the access controls you have in place, both in terms of your digital data as well as areas around the office. Keeping both on a "need to know" basis—only providing access if it is needed for an employee's work-related responsibilities—is an effective way of reducing your potential danger.
Reassessing Collaborative Practices
Collaboration is a major part of modern business practices, but it also needs to be done safely. While it was once simple enough for a team member to walk over and strike up an important conversation with a coworker, communicative technology will now need to be relied on instead. You also need to consider that the other businesses you work with may still be utilizing remote operations, making it necessary to find a solution that gives everyone a seat at the table.
If Your Team is Continuing to Work Remotely:
On the other hand, if you happen to be one of the businesses still utilizing remote operations, you will have a different set of considerations to balance.
Ensuring Remote Cybersecurity (and Physical Security, Too!)
Technically speaking, cybersecurity is cybersecurity, but the remote worker presents unique challenges to it that need to be addressed. Fortunately, managed IT can provide the security tools your remote team needs. For instance, your remote team needs to continue using secure passwords and keeping an eye out for phishing attempts, but they also need to use a VPN (or virtual private network) to communicate with the office and access data stored on the business network—where all your data needs to be stored.
Your office itself also needs to be secured against threats. After all, with nobody there, it's a more appealing target.
Enabling Collaboration
With your team spread out so very far, you need to make sure that they can communicate with one another and work together on tasks that have a few of your team members sharing responsibilities. Various collaboration tools, AKA productivity tools (Microsoft Office 365 or Google Workspace), are out there that can help you to this end. Of particular note to small businesses are the cloud solutions available today that allow multiple people to access and work together on an online document simultaneously.
Exercising Broadband Capabilities
Last year, Marylanders realized how dependent they were on the internet and how much stress the pandemic placed on it. Naturally, a strong connection will be necessary for efficient remote work, which means that a broadband connection will be considered an asset for your business to have. Having one in place will help you avoid encountering as many delays in work as you might face otherwise, as it will better support the needs of so many devices trying to access your network at once. A robust broadband connection is essential for VoIP which can be an indispensable tool in a remote work environment.
If You are Establishing a Hybrid Model:
The needs of the hybrid model are simple: all of the above apply. In order to effectively put the hybrid model in place—sometimes in-house, sometimes remote—you need to be prepared to support both options.
No matter what your plan is, we're here to help, like we've been the whole time.
Since the beginning of this entire situation, Dresner Group has been here for the businesses of Maryland to ensure they've had the tools needed to last through it. Even before that, we've worked to support businesses with all of their IT needs. We can help you too.
Regardless of what your need is, or how you foresee your business operating, we can provide the solutions and the support to make it all work. Find out more by calling 410-531-6727 today.
Comment for this post has been locked by admin.
By accepting you will be accessing a service provided by a third-party external to https://www.dresnergroup.com/