How a Crisis Shows the Need for Business Continuity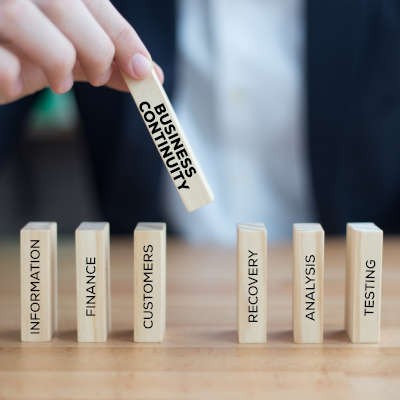 Many Maryland businesses put disaster planning on the back burner because they think an event could never happen due to their location, infrastructure, or just plain luck. What the current crisis shows us is that all businesses are at risk, and disaster can happen at any time and that every business needs to invest in a business continuity plan.
COVID-19 Brings Business Continuity Into the Forefront
As Maryland continues its fight against this illness, there is incredible uncertainty in the business community. Despite this instability, there should be at least one take-away from this crisis: your business needs a continuity plan in place. It is now crystal clear that sooner or later every business will face a disaster in one form or another.
Are you prepared?
A business continuity plan is exactly as it sounds, having a plan for the business to continue after a critical event. These events can include:
The death of an essential member of the team.
A key member of the team leaving the organization.
A disaster such as a hurricane, (or pandemic) in which key members of the team may not be able to communicate or the business itself is rendered inoperable.
Traditionally, business continuity was focused on providing businesses with a path to move forward after a traumatic event, such as natural disasters but also human caused disasters like security threats and data breaches. Unfortunately, many businesses feel that they are immune to the randomness of fate. The coronavirus and resulting business closings have changed all that.
As Maryland businesses are acutely aware, the coronavirus crisis touches on all areas of our lives, particularly the business community. Businesses should take this crisis as a clear signal as to why it is more important than ever before to ensure your organization has a business continuity plan in place. The current situation shows us that being prepared is critical to being able to keep your business productive, regardless of the circumstances you find yourself in.
Why Focus on Business Continuity Now?
Ideally, you would have had a business continuity plan already in place, but for a variety of reasons, many businesses don't. This crisis is a game-changer and adds a level of clarity when considering the value of business continuity. One thing this crisis shows businesses is that your company's health is inexplicably linked to the well-being of your team. If your team is unable to do their jobs due to illness, that is as much a threat to your business' survival as a lighting strike to your building.
Perhaps the only positive aspect of business closures due to social distancing as opposed to a natural disaster, is that the communication infrastructure is still functional. By having access to broadband, your workers who are now at home can still be productive, in fact, your business can find success with remote workers. This of course assumes that you have a business continuity plan in place and your disaster plan accounted for supporting a remote workforce. If not, now is the time to put one in place.
When developing a business continuity plan, you should account for the following areas of concern:
Cyberattacks
Sabotage or user error
Power outages
Hardware failure
Sickness
Natural disasters
Fire
On or off-site utility outage
One thing to keep in mind is that the urgency of these issues will be greatly increased due to your team working remotely. The truth of the matter is, without your tech department around to ensure best practices are being followed, your team may end up relying on the habits and processes they use in their personal lives.
This can be problematic in regard to your business' security, as we know even in the best of times, your team will be the weakest link and you need to consider the risks that come from IT threats. It doesn't have to be this way, as even though they are away from the office, it's not too late to give your remote workforce security tips to keep your data safe. Finally, Maryland has one of the strictest data protection laws on the books, so it benefits your business to ensure your team is following best practices as they work from home.
Why Business Continuity Is Critical
Finally, while an unpleasant thought, there is a real possibility some of your team will not return to the business after this crisis is over. Whether it's due to attrition accelerated by the crisis or a COVID-19 related disability, things may not be the same in your office. Unfortunately in today's environment, your business continuity plan must include preparing for death. You have to ask yourself, can your business survive if a key member doesn't return to work? If the answer is no, then you need to develop a plan to ensure that your business can… Today!
Now's the time to take business continuity seriously, because if not now, then when? This crisis should be a wake up call to the importance of having a business continuity plan. If your business needs help during this trying time, call the IT professionals at Dresner Group at 410-531-6727. Our multifaceted processes will bring your technology to the level it needs to ensure your organization's continued growth during and after this crisis.
By accepting you will be accessing a service provided by a third-party external to https://www.dresnergroup.com/