It's Time to Delegate Your IT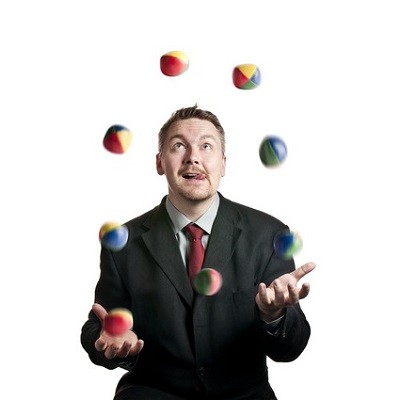 So, you're a business owner, which says a lot about your personality. It says you're a go-getter, unafraid of getting involved with almost anything that has to do with your business - which may be why you're in the position you are today. However, that was then… this is now, and now you need to accept some of the benefits of delegation, after all there are only so many balls you can keep in the air.
Delegation Has Long Been a Supported Tactic
"The best executive is the one who has sense enough to pick good men to do what he wants done, and self-restraint to keep from meddling while they do it." - Theodore "Teddy" Roosevelt, 26th President of the United States.
As just one of many on the subject of delegation, this quote shapes the unique position of the business leader. As the person in charge, they need to be directly involved in relatively little, yet many want to be directly involved in as much as possible; including their technology. You may have experienced a similar urge at some point. If you're like most small businesses, there was a time when you were the IT department or you had one person doing it all.
However, as your business has grown, you haven't grown with it, not in many of the ways that are critical for growth and competitiveness. IT is one of those critical areas.
Why Delegating Technology is Important
Of course, since you worked your way up to being the boss, most likely wearing many hats along the way, you're used to figuring out a problem on your own. Internet down? Spam? Hard-drive failure? You just rolled up your sleeves and got down to business. However, your business has outgrown the attention one person (especially the boss) can provide it. It's time to look for assistance… or, in other words, delegate some IT maintenance functions to the experts. The simple truth is, as the boss, your most important focus should be your business... not your IT. It's time to let it go.
Exploring Delegation's Benefits
I'm sure you've heard the old adage, "If you want something done right, do it yourself."
It's less likely that you've heard this quote, from British media personality Anthea Turner:
"The first rule of management is delegation. Don't try and do everything by yourself because you can't."
Wise words, especially when you apply them to the constantly evolving state of technology and how your level of competency can determine whether or not your business is able to compete and grow in an increasingly competitive landscape.
As the business' leader, you give it direction and purpose. However, if you're deeply involved in too many of the business' processes particularly it's IT; the end result could be operational deficiencies.
Delegation and Managed IT
A great way to avoid these deficiencies is to leverage a few key technology solutions. For example, an employee seeking assistance with their IT could reach out to an all-hours help desk for support, rather than calling you. A virtual Chief Information Officer, or vCIO, could assist you in planning out your business' technology. Their experience in understanding out to leverage technology as part of your business' growth strategy can be essential to maintaining your company's position now and in the future.
Ready to Delegate with Managed IT?
When you become a part of Dresner Group's managed IT services and support, you have access to always on call and available 24/7 services and solutions. In fact, our flat-rate model allows you the security of a balanced budget. Our services pay for themselves in uptime and peace of mind. Most importantly, Dresner's managed IT solutions, gives you the freedom to stop crawling behind desks, answering tech questions and focus on your business.
Dresner Group can help you implement the solutions discussed above, as well as others as a part of our managed services. Reach out to us to learn more about how we can equip you with the solutions that ensure each step of your process is completed effectively and efficiently. Call 410-531-6727 today!
By accepting you will be accessing a service provided by a third-party external to https://www.dresnergroup.com/