Physical or Virtual Servers; Which are Best for Your Business?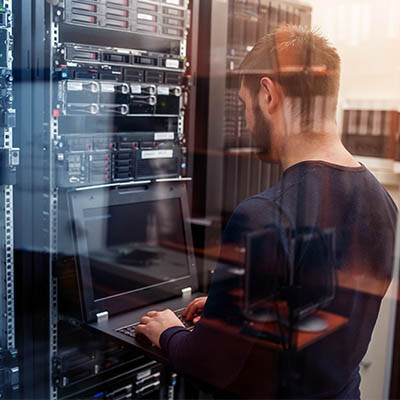 When you reach the limits of what your existing server can do, it used to mean purchasing another expensive server or maybe pouring a lot of money in upgrading what you have. Either way, it's a wealth of additional expenses. Then there is the cloud option, which tends to eliminate the huge upfront expense and instead involves a contract. There are other virtual and hybrid models to choose from as well. You need to be asking, "what would really work for my business?"
What is a Virtual Server?
While most businesses are familiar with physical servers, they aren't the only technology organizations can use to host their data, serve their centralized applications, and dish out network policies. Virtual servers are essentially the software version of a physical server. Sure, you do need physical hardware to run a virtual server, but the idea is that you can run multiple virtual servers on a single device.
The use cases for this are practically endless. The idea is that you have a single high-end device running multiple servers that your business needs. This one server that is doing the job of several is usually more expensive, but not usually as expensive as buying two or three less-capable servers. The long-term costs are much less too; businesses can save on energy consumption, management costs, and overall infrastructure requirements. Virtual servers are typically easier to manage since they can easily be moved and migrated to new hardware if needed. We've been helping clients simplify their IT infrastructure by consolidating their servers for years, and it truly does pay for itself pretty quickly.
Virtual servers also don't need to be stored on-premise.
Your server (or servers) can exist in a safe, shared, 100 percent managed data center that spends huge amounts of money on things like redundant internet connections, power generation, cooling systems, and cybersecurity protection. This tends to be even more cost-effective, almost eliminating the upfront expenses and billing your organization for the computing resources it needs. Granted, not all cloud solutions are created equal, but giving organizations more for less has been one of the main reasons they've been such a valuable resource.
Cloud servers have been around for some time, but many businesses are still unsure of them and whether or not they are a good fit for them, or even why they should consider making the switch. If you're already invested in physical servers but are interested in exploring the benefits of transitioning to cloud servers, here are some pros and cons of both to help you better decide.
What Server Options are Best for Maryland Businesses?
While there are going to be specific use cases that may demand a physical, on-premise server, and others that truly need a cloud-hosted virtual solution, for most of your computing needs, it comes down to weighing the pros and cons.
Pros of Physical Servers:
Your IT team (in-house or managed) has complete control and access to your server resources due to the benefits of 24/7/365 monitoring. This reduces any lag time that may occur when an issue needs to be addressed.


As this server is physically connected to your network, an Internet outage won't disrupt your access (although it could prevent other things from working properly).


Your managed IT team is intimately familiar with your business' specific needs and will be able to fully customize and configure your organization's server to meet these particular needs.


Physical control of your server. You can control who enters your server room, who accesses the server, and how well it is taken care of.
Cons of Physical Servers:
There can be a high initial cost regarding a server purchase. Additionally, there are operating costs associated with maintaining your server including upkeep, upgrades, and management. Other expenses can manifest themselves in a variety of ways:

Energy costs. Physical servers can require considerable energy to operate, increasing your business costs. Moreover, physical servers need additional support equipment, such as air conditioners and other environmental control equipment, all of which will increase your overall energy consumption.
As with all physical devices, wear and tear is a normal part of the life cycle.
With a physical server, you cannot always quickly scale storage or computing resources on an as-needed basis. Once you reach the maximum workload, you will need to purchase additional hardware or get a new server.
Environmental conditions matter. There's a reason why a server room needs to be cold.
Physical space is a premium for most businesses, and while some companies are willing to stick their servers in a broom closet in the back of the office, this is a recipe for disaster. Server room best practices require your server to be housed in a secure and temperature-controlled room, or you risk your server failing.


Your server isn't a standalone device; for it to function correctly, and reliably there needs to be support equipment. These devices include investing in air conditioning to help maintain server room temperatures, uninterruptible power supplies, and physical security to keep the room secure. Finally, you should consider investing in environmental sensors to trigger if your server room's environment becomes compromised, for example, by a leak.
Pros of Cloud-based Servers:
Growth when you need it: Storage can be added as needed and on-demand. This allows your business to ramp up during the busy season and ramp down as demand does; you only pay for what you need when you need it. Typically you can also expand other computing resources too without major up-front costs.


Dramatically reduced operating costs: Cloud-based servers reduce most of the capital costs associated with a physical server. With a cloud-based server, you won't need a dedicated server room or the need for additional support equipment. Due to the low cost of entry, cloud-based servers can be a good fit for smaller businesses, which will need to expand their capabilities as their business grows.


Accelerated upgrades: As with most cloud-based technologies, upgrading your server will often be accomplished with minimal downtime and disruption.


Efficient backups and security: Your business' survival is only as assured as your last backup. Cloud servers can easily create snapshots of your data as often as needed, allowing you to recover from any disaster, including a ransomware attack, quickly. Backup and restore functions can be accessed from anywhere, using any computer, tablet, or smartphone.
Cons of a Virtual Server
Internet Dependant: As with all cloud-based technology, your cloud server requires an active internet connection to operate. This means access to your server and your data is intrinsically linked to your internet connection. If you lose access to your internet, you lose access to your data, and your business comes to a standstill. If you're in a location with unreliable or insufficient broadband, cloud computing may not be a good fit for your business.


Recurring Costs: Depending on your needs, a cloud server can have continuing costs associated with running them. These costs can include VM software licensing fees, which can increase your overall monthly expenses. It is not uncommon for the upfront costs for servers and licensing to be somewhat hefty.
Maryland Businesses; Are Cloud Servers an Option?
Like most things, the answer is, "it depends." Fortunately, you don't have to make the decision alone as Maryland's premier business technology expert Dresner Group can help your business develop the right server solution for your organization, including assisting your business with server migration.
Call Dresner Group today at 410-531-6727 to learn more about our cloud-based solutions and how managed IT can help your business increase productivity, cybersecurity, and your bottom line.
Comment for this post has been locked by admin.
By accepting you will be accessing a service provided by a third-party external to https://www.dresnergroup.com/