Three Must-Have Technologies of the Mobile Office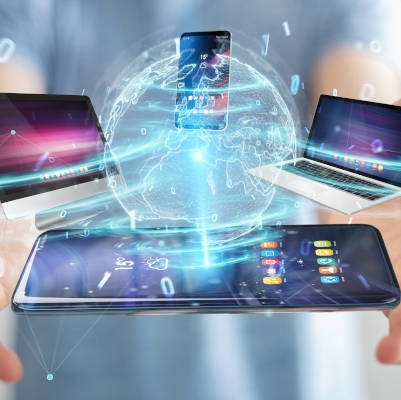 There's nothing as impactful when it comes to closing the deal as the personal touch a face-to-face meeting brings. In today's always-in-contact environment, it is critical that your team is able to securely access the company's resources when they are away from the office. In a worst-case scenario, the ambitious go-getter will attempt their own methods to have critical company data at their fingertips, which may or may not be secure.
Here are three must-haves your road warriors and telecommuters need in order to communicate with the office while they're not at their desk.
1. Use the Cloud to Collaborate and Share
Being on the road doesn't mean you have to be out of touch. With cloud computing, you'll never forget anything in the office again, because you've brought your office with you. Cloud solutions allow you to have constant access to your organization's information while out of the office… but only if it's well-configured and designed to.
When on the road, your team can use the cloud to view documents, have access to applications and, of course, collaborate in real-time. When choosing a cloud solution, make sure it is scalable. This way it can grow with your business, instead of becoming a bottleneck.
Finally, cloud computing offers a safe and secure method to share information with your office and your customers from anywhere.
2. Mobile Device Management Solutions
BYOD (Bring Your Own Device) policies are becoming more commonplace, not only because of the savings from not having to purchase hardware, but the increase in productivity. Your team members are often more familiar and comfortable working on the device they use every day, but if they are going to access company data and email, you need to make sure that access is secure.
Your mobile device policy can automatically enforce security settings like encryption and requiring a pin or pattern for the user to get into their phone. You can also remotely wipe a work profile, revoking access to company email, calendars, contacts, and other data if the phone is lost or the employee leaves the company. It gives your staff the power and flexibility to use their mobile devices to conduct business, while keeping you in control without otherwise restricting the device.
3. Use A VPN to Protect Your Data While You're on the Road
Isn't free Wi-Fi great? You can grab a cup of coffee and a pastry in a quiet coffee shop, pull out a laptop, and get some work done. Airports, hotels, conference centers, and many other public locations tend to offer complimentary Wi-Fi for this.
The reality is many free Wi-Fi hotspots are insecure and can hide malware and other forms of threats. Data sent from your laptop or phone isn't secure, and could be intercepted. If you connect to your business' network using a compromised connection, you risk exposing your network to being attacked.
The rule of thumb when it comes to accessing your data is that if you can't control your access point, you can't trust it. You have no way to control a public Wi-Fi hotspot, which means by default it is untrustworthy. However, all is not lost, there is a method to secure mobile connections: using a Virtual Private Network (VPN).
A VPN allows you to access your business' network securely and safely from any public Wi-Fi. This works by encrypting your data before it 'travels' across the Wi-Fi. If a hacker were to intercept your transmission, they wouldn't be able to do anything with it. Using a VPN is best practice to help avoid putting your network's data at risk while you're on the road.
The Mobile Office Is a Reality
Dresner Group offers a variety of solutions to help your business and team become mobile-ready. Our tools include cloud computing, mobile device management, and VPN support, as well as a wealth of other managed IT services. Give us a call at 410-531-6727 today for a free IT consultation.
By accepting you will be accessing a service provided by a third-party external to https://www.dresnergroup.com/