Why IT Support and Physical Security Should Go Hand-In-Hand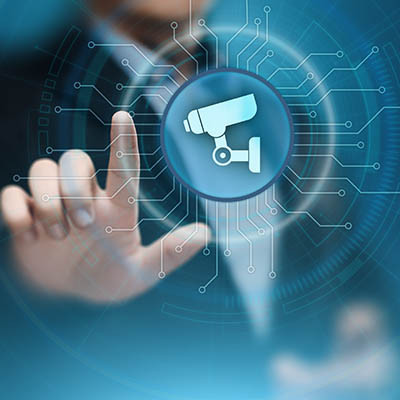 We've recently joined forces with Visual Security to help bring security cameras and physical security solutions to our clients. You might be thinking, "Why would I rely on the company that keeps my computers and technology running to establish my surveillance system?"
As it turns out, IT security and physical security go hand-in-hand.
Your business actually needs to have properly implemented IT infrastructure and cybersecurity best practices in order for a modern physical security solution to perform the way it should.
Modern security cameras often connect to the network in one way or another. If that connection isn't secure, you are leaving your security system wide open. If your security hardware isn't monitored and maintained, and updates and security fixes aren't applied as they are released, you could run into issues as well. These devices are no different than the rest of the technology your organization uses every day, and they need the same level of management and maintenance as any other part of your network.
What Is Physical Security?
Before we get too deep, let's actually talk about what physical security is, especially when it comes to a business.
Most people think of physical security as door locks and security cameras, and while that is certainly a major piece, physical security also ties in with access control, as well the infrastructure required to keep these systems running reliably.
Modern physical security solutions often pair with IT security. Access control solutions can "talk" to your centralized server's Active Directory, allowing you to control what groups of users have physical access to certain areas within your building. It's this integration that makes modern physical security solutions so powerful, adding a lot of automation and event logging, and giving busy business owners the tools they need to control it all. Simply put, access control is critically important for your business.
Physical Security is a Critical Part of Your Overall Business Continuity
A break-in is not something that any organization wants to deal with. Fortunately, good cameras and door locks serve as a major preventative step, but it doesn't stop there.
Depending on your organization, you likely have a lot of valuable assets and not enough staff to carefully monitor all foot traffic. Since the pandemic started, and with many offices going fully or partially remote, offices and businesses haven't been fully stationed. Securing your assets can give you peace of mind, and provide information and evidence when something does happen.
Modern access control systems can allow each user to have their own pin, scannable card, or even scan a smartphone to unlock a door. This means you'll always know who entered and at what time. Automated rules can be set up so doors unlock at certain times and lock at night. There are so many automated use cases depending on your needs. Whether you manage a school, a gym, a library, a healthcare facility, a multi-tenant building, or a typical office, there are ways physical security and modern surveillance can give you a lot of peace of mind.
Let's Talk About Your Physical Security
Just like IT, your security cameras and access control systems need to be implemented properly, and regularly maintained, and monitored. That's right in our ballpark! We're excited to help our clients blur the line between the high-end IT management and cybersecurity solutions they are used to, and the physical security solutions that they need to protect their businesses and their people.
Give us a call at (410) 531-6727 to talk to one of our physical security experts today!
Comment for this post has been locked by admin.
By accepting you will be accessing a service provided by a third-party external to https://www.dresnergroup.com/