Answers to the Most Frequently Asked Managed IT Questions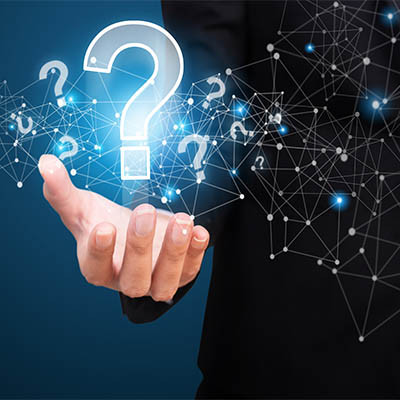 As a managed service provider, we are very aware that the term "managed service provider" isn't particularly familiar to most people. To many, we're computer people or an IT department, but that's really just the top layer to what we do for our clients. To help mitigate this, we wanted to answer a few questions we've found people often have about the nature of our services, and how they can make your business processes more efficient and reliable.
What is Managed IT, Anyways, and What Makes it So Different?
This is a question that we have to answer quite often.
Take a moment and think about what the term "IT support" means to you, whatever impression that may elicit. Chances are pretty good that your thought process has brought you to the more traditional form of technical support, where you and your team members reach out for assistance once your tech starts to interfere with productivity. In other words, your computer breaks, or something can't be accessed on your network, and you call support to fix it. This is also known as the "break/fix" method of maintaining your technology.
Managed IT takes a different approach. As a managed service provider, we'll proactively monitor your technology solutions to make sure that everything is operating smoothly. If any pending problems are detected, we'll resolve them remotely before they get in your way. Managed IT is the best way to reduce downtime. More than that, we'll also be here to help you plan your IT's future, charting out an upgrade path to make the most of your resources. Despite being an outsourced technology resource, we'll act as though we're an extension of your internal team, dedicated to assisting your business in any way we can, at any time of day...or night, for that matter, with our 24/7 help desk.
So, I'd be Paying You All the Time? Wouldn't It Just Be Cheaper to Pay-Per-Incident?
You'd really think so, but it actually isn't.
It's important that you factor in the total costs for everything, from the cost to solve the actual problem to the lost income that the problem itself causes. A computer with a malfunctioning power supply is going to cost your business more than whatever the replacement power supply goes for—there's lost productivity to account for, for however long the lack of a power supply prevented work from being done. The consistent monitoring that managed services provide help to avoid a wide variety of downtime-causing issues, like cybersecurity failures, hardware failures, and other serious concerns.
Furthermore, you have to consider the inherent issues present in the methodology that the break/fix approach follows, particularly for the organization receiving the support. While we'd like to be able to assume the best, we do have to acknowledge that a break/fix provider isn't going to be particularly motivated to solve a problem for the long term—after all, that would eliminate their primary source of income.
On top of this, even if you don't tend to see very many issues, persistent vigilance is becoming more and more important with modern cyberthreats. One bad case of ransomware can bring an organization to its knees for days, weeks, or even permanently. Things get real messy real fast, which brings us to the next question.
When Managed Services are Described As All-Inclusive, What is Actually Included in Terms of Security?
As one might expect, security isn't something that can be done in half measures. Fortunately, managed services (at least, those offered by Dresner Group) include a comprehensive set of cybersecurity solutions to protect both your data and your continued operations.
With so many different threats out there, today's businesses need to be protected from all angles. We offer the means to protect from many threats, from spam blocking to content filtering to backup and disaster recovery preparations and everything in between. Naturally, it is also important that your team is also trained to spot and respond to phishing threats appropriately, which is another aspect of our services that you could take advantage of.
How Experienced is a Managed Service Provider's Team?
While we can't really speak for other managed service providers, our team members have confirmed their capabilities through up-to-date certifications and are ready to assist you. So, why waste valuable time and energy trying to diagnose and resolve your IT issues when someone else is ready, willing, and waiting to do it for you? Moreover, as an MSP located in Columbia, we are familiar with the business environment you're operating in. This allows us to make recommendations based on our experience as a Maryland business, as opposed to the assumptions other less-connected providers often provide.
We are here to be a trusted and trustworthy resource for you. To find out more about what we offer through our managed services, give our team a call at 410-531-6727.
Comment for this post has been locked by admin.
By accepting you will be accessing a service provided by a third-party external to https://www.dresnergroup.com/