Data Recovery Is Essential For Your Business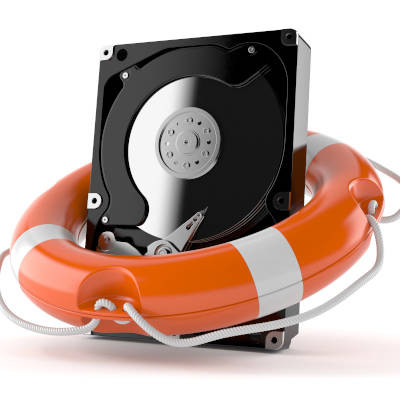 If I were to take away all of your computers and workstations, would your business still have all of its data? What if I were to take your server out of the equation? What if I were to take your backup device? How long would it take for you to gain access to your files again?
This is exactly what ransomware does—your data across multiple devices can be lost instantly and hackers will extort you to get it back. But even if you are properly backed up, a disaster like this can do serious damage to your productivity and take a long time to recover from, if your backup solution isn't properly implemented.
Data Recovery and Hardware Failure
While the tools that run your business have become more reliable as technology has evolved, one component remains the weakest link: your HDD (hard disk drives). Using roughly the same technology since their introduction, HDDs remain the most fragile component in your workstation. It has been estimated that 6 percent of computers experience some form of data loss every year!
Data loss due to mechanical failure is such a common occurrence, chances are you will eventually face an HDD failure. While it is certainly not best practice to have your critical data solely stored in one location, the reality is many businesses do exactly that. Since data loss is a common first step that can put a business out of commission, it's important to ensure that all data is properly backed up.
On top of this, ransomware attacks are on the rise. Ransomware attacks make all of the data on a device unreadable unless you fork over a ransom to the hackers. Some ransomware attacks will even spread across multiple devices on a network and can almost immediately infect your entire business once a single device is attacked.
It is sometimes possible to recover data from a damaged hard drive, and by investing in a maintenance and monitoring service, you reduce the possibility of unexpected device failure. However, it simply doesn't make sense to not back up your data. Keeping it in one place is just a ticking time-bomb. It's truly time to protect your organization's data.
The Right Backup Solution Makes Data Recovery More Likely
The most effective method to recover your data is from a current backup and not as a last-ditch effort from a failing hard drive. The only real practical approach to prevent data loss is to have a backup of your data and a way to recover it when you need it. This means you must invest in a backup and disaster recovery solution that complies with a backup and disaster recovery plan.
A backup and disaster recovery plan includes automatically backing up your company's data to a secure offsite data center. For example, if your IT infrastructure, including your backup device, is damaged during one of Maryland's hurricanes and you need to recover your lost data, you will be able to do so. Your information is safe and recoverable because you have invested in a comprehensive backup and data recovery solution. Now imagine for a moment that you only had your data stored on the workstations in your office or a backup device connected to a server—your data would be gone.
The final step in your data recovery plan is to invest in disaster recovery as a service (DRaaS). Many businesses may consider disasters related solely to natural disasters, and as such, don't feel their business is at risk. However, the reality is a disaster can take many forms, and you'd be surprised how many disasters aren't caused by "disasters."
That being said, while retrieving lost data is a valuable service, the truth is you should always be looking to minimize risk in the first place. Moreover, while we have focused on mechanical failure, the reality is, the most risk to your data will be due to human error. This is where an employee accidentally overwrites an important file, directory, or database, or accidentally allows malware in that can infect everything it touches. This means in addition to hardware security; you should invest resources into your team. Some of these resources should include: training your team, implementing 2FA, and managing who can access your data.
Does Your Business Have a Backup and Data Recovery Plan in Place?
While it is undoubtedly true that Maryland contains many technology-focused businesses, the reality is not every company engages in best practices. This is partly due to a level of over-confidence that businesses have because they haven't been a victim of a cyberattack. Unfortunately, many companies forget that cybercriminals are always evolving. Even if you managed to avoid an attack in the past, it's just a matter of time before you are targeted.
As a local Columbia business, Dresner Group understands the Maryland business environment is an attractive target for cybercriminals and recommends all companies invest in a BDR to keep their data safe. Call 410-531-6727 to schedule an appointment or request a
cybersecurity audit
.
Comment for this post has been locked by admin.
By accepting you will be accessing a service provided by a third-party external to https://www.dresnergroup.com/