How Can Network Monitoring and Maintenance Benefit Your Business?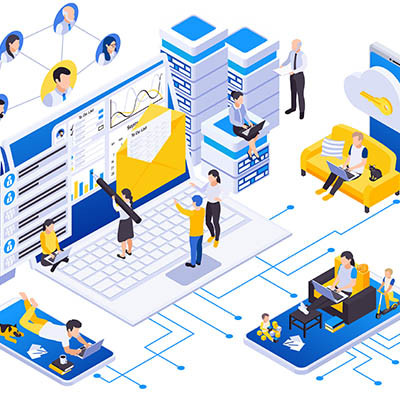 When it comes to your technology, surprises are never a good thing. Remote network monitoring and management can prevent the unexpected from bringing your office to a standstill due to the technology your business depends on failing. Learn why proactive monitoring can save your business time, money, and headaches.
Why Is Network Monitoring and Management Beneficial to Your Business?
Remote monitoring and maintenance is designed to keep track of the status of your technology's infrastructure. The reason why this is beneficial is that by monitoring the technology your business relies upon, you are more likely to prevent a catastrophic event from occurring. Remote monitoring brings stability and consistency to your business because it works 24/7, primarily behind the scenes, ensuring your technology remains operational.
An additional benefit of partnering with us for the maintenance and monitoring of your technology is that we'll also audit your equipment. An IT audit is essential because for many businesses it is the first time they have taken an account of the technology in their office.
An IT audit serves a couple of purposes, first, it creates a record of the technology your office depends upon. This information is critical when troubleshooting compatibility issues, ensuring that your technology is updated when needed. Secondly, your IT audit allows you to develop a monitoring and maintenance schedule to determine when it is time to replace aging equipment. A side effect of an IT audit is that it can prevent the security issues that come from continuing to use obsolete technology, by reducing the exposure of your business to a cyberattack.
How Network Monitoring and Management Works
Your managed service provider will install monitoring software on your workstations and servers. This software will keep track of the status of your equipment and if events outside of normal operating parameters occur, take action to prevent it from disrupting your productivity. As you can imagine, in the case of a ransomware attack, time is of the essence, as the longer a ransomware attack is allowed to run unchecked, the more damage and more difficult it can be to mitigate it. Remote monitoring can reduce the amount of time that it requires to take preventative action.
Network monitoring and maintenance tools capture information about your system and send the results to our technicians for analysis. We then review the information, troubleshooting any potential problems before they have a chance to manifest and provide you with recommendations to plan your technology needs for the future.
Your Out of Date Technology is a Risk to Your Business
While it can seem like no big deal and even a smart way to save money by continuing to use out-of-date or EOL (End of Life, or in other words, retired) software or hardware, the reality is you're placing your business at risk of a wide range of adverse effects. The main feature of proactive maintenance is keeping track of your software and hardware to ensure that it is up-to-date.
This risk usually comes from incompatibility between the software and/or hardware or security issues. Security issues can stem due to vendors no longer updating their products which have been classified as EOL.
When hardware or software is supported by the vendor, the vendor patches these vulnerabilities; however, once the hardware/software is considered obsolete, they are no longer actively patched. This can allow for exploits, a vulnerability or weakness that lets a cybercriminal attack your system and access your network. Eventually, exploits are discovered, and cybercriminals begin using these vulnerabilities to launch attacks.
Your managed IT partner will keep track of your technology, first ensuring that it is up to date with the most current patches. However, most importantly, they ensure that unpatched hardware and software is eliminated from your systems, ensuring that it doesn't pose a risk to your network security and stability.
Don't Let Your Technology Surprise You
If you're still relying on the "break/fix" method to support your business technology, chances are you have been surprised more than once by a piece of software or hardware failing when you needed it the most. Moreover, once your computer repair company fixed the problem, they only fixed the problem for the moment, and left any lingering or long-term issues to remain. Managed IT provides a long-term solution to your technology issues, striving to prevent them before they disrupt your business. In contrast, the break/fix methods only kick in after your productivity has ground to a standstill, costing you time and money.
Don't wait for something to happen. Call Dresner Group today to learn more about proactive monitoring and how it can keep your business up and running. Call (410) 531-6727 today to schedule an appointment.
Comment for this post has been locked by admin.
By accepting you will be accessing a service provided by a third-party external to https://www.dresnergroup.com/