Setting up Security Cameras? Make Sure It's Done Correctly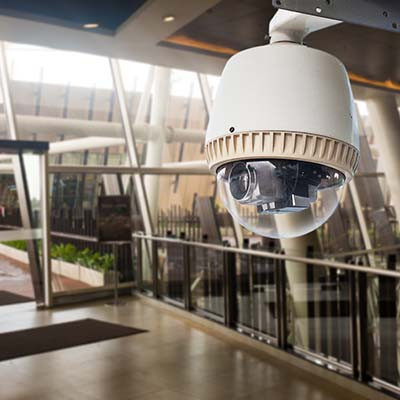 Now that Visual Security Consulting, LLC has become a division of Dresner Group, they have added to our ability to deploy quality security camera solutions, and it seems like a good time to touch on why a managed service provider would be involved with this form of security. Let's review how your IT and a modern security camera setup are related.
If we're being honest, it isn't so much that they're related so much as they've become integrated.
Modern Security Camera Systems are (Basically) Just Another Component to Your IT
It's true—camera systems produce data. That data needs to be stored, transmitted, and backed up just like any other data. The camera needs to be kept secure so it can't be tampered with (physically or digitally). This makes it another piece of technology on your network. This means that (for all of the benefits that a camera system can have) there are serious liabilities potentially at play if the system isn't implemented properly.
This means that someone in your business will need to keep an eye on it… and not in the way most people think of first when cameras are involved. Rather, someone in the business needs to be responsible for monitoring its performance and evaluating it to identify if a problem needs to be solved.
A Modern Camera System Uses a Lot of Different Technologies
Let's discuss just a few things that a modern security camera setup demands of the business putting it to use:
Data Has to Be Stored Somewhere
A good rule of thumb to keep in mind is that anything having to do with video data is going to need a lot of storage space. As in, a lot. This means that whatever storage system you use, whether it be hard drives in a server or network-attached storage, or cloud-based, has a lot of room for data. When you store your video footage locally, the device you are storing it on is constantly recording. Not all hard drives are designed to take on this type of workload, but there are drives that excel at it. Plus, the more storage you have, the longer you can hold on to your recordings.
A Dedicated Server or Storage Solution Will Almost Always Be Necessary
These camera systems typically require their own servers to host this data and manage the involved cameras. This server holds the video management software that these cameras rely on to function. Some systems are purely cloud-based, but there are some limitations to consider, depending on the device. We evaluate an organization's situation to determine what solution is going to be right for them.
That dedicated hardware will need to be managed and maintained. Just like anything else, it needs to be kept secure, updates need to be performed, and if something goes wrong, it needs to be addressed quickly.
A Backup for Recorded Footage
Like every other piece of data your business produces or collects, the footage your camera system collects should be retained for some time… something that a backup solution can make much simpler to do. A backup that meets best practices can ensure that your footage is available when needed.
We can help you determine approximately how much data you'll be archiving per day, per week, and per month, so that you can be aware of how much more storage you'll need for your backup solution. Again, this will change based on the number of cameras you have, the quality of video you need to store, and how long you need to keep the footage for.
Remote Access Capabilities
Finally, your camera system should serve as your eyes on your business whenever you aren't there, but that doesn't mean you can't catch a glimpse for yourself. A good camera system will offer remote access, enabling you to review footage and live goings-on whenever you feel the need to check.
This is no small feat, which is why we're here to help you manage the hardware that is required to support these needs. Make no mistake, this is not something we recommend anyone do themselves, short of a trained professional, just because the processes are more intricate and involved.
Trust Dresner Group, and Our Experience, with Your Security Camera System
We're very proud of our team here and the capabilities we have as a result. We're also proud that our team has kept apprised of recent events—case in point, the pending bans of some camera hardware—and understand the dangers that these kinds of events can pose. For instance, using the hardware that was recently banned could potentially leave your network vulnerable to malicious backdoors.
Hence, why you need a resource like us, i.e. one you can count on.
Now that we've joined forces with Virtual Security Consulting, we can accomplish even more to help keep your business safe. Find out what we can do for your specific situation by calling 410-531-6727.
Comments
No comments made yet. Be the first to submit a comment
By accepting you will be accessing a service provided by a third-party external to https://www.dresnergroup.com/