Construction Companies Require Hardened, Reliable IT Services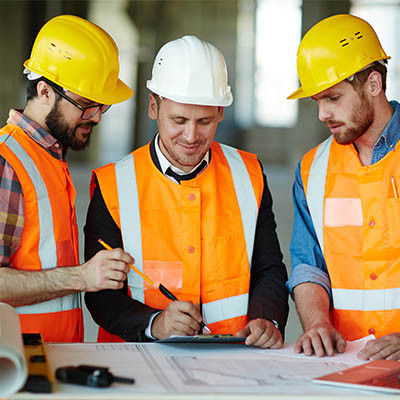 Like many industries today, the construction industry thrives on the digital landscape to keep its business running. Whether it's managing estimates, billing, work schedules, or payroll, many tasks are made more efficient or fully rely on properly managed IT.
How Technology is Changing Maryland's Construction Industry
According to the Baltimore Business Journal, Baltimore is in the middle of a construction boom. With so much growth, many construction firms are turning to technology to help with their growing pains. From communicating between the job site and the home office, to keeping files and paperwork flowing, computing has been playing a prominent role for construction.
If you looked at the toolbox of even a small independent contractor, you would find a host of electronic devices which rely on modern technology to function. Whether it's Bluetooth-enabled measurement tools that transmit their information into an app or a drone used to take aerial images for photo-realistic 3D renderings and site surveys, the days of construction being purely a field of manual labor are long gone. Even the less-technical construction firms at least rely on smartphones to communicate information, and a home office to manage everything.
Modern Construction Relies on Smart Technology
As construction companies embrace modernization, older practices are being replaced, and new construction technologies are coming to the forefront. One such technology is Building Information Modeling, or BIM, an intelligent 3D model-based process. BIM allows construction professionals to plan, design, construct and manage buildings and infrastructure more efficiently. This is accomplished using computers and 3D rendering to give realistic approximations of what the structure will look like and how the infrastructure will behave. This is a different approach to the traditional method of assumptions based on 2D drawings.
A benefit BIM technology provides construction professionals is allowing them to determine the amount, cost, and even structural benefits of the materials needed for a project. BIM data can also develop proactive maintenance schedules after the project is complete, allowing the building managers to control maintenance costs better.
Technologies such as BIM can bring considerable cost savings to your construction company by reducing waste and increasing productivity; however, it also brings with it the need for up-to-date and reliable technology and proactive maintenance to operate optimally.
Not only do your workstations have to be up to the task, but so does all the technology needed to support it. This is where we can be of help. Our managed IT service is designed to see the big picture and develop a technology plan for all parts of your business.
We aren't your typical computer repair shop. Instead, we partner with businesses and organizations to handle, maintain, and optimize a wide range of technologies. This includes IT vendor management, printer support, networking, and desktop monitoring and management, but it really only starts there. While individually, any of these services can provide your construction firm the ability to be more productive, when combined they give your organization the resources to grow to the next level. Moreover, managed IT ensures your technology doesn't fail when you need it the most or runs into issues due to outdated software or incompatibilities.
Leave Paperwork Behind
Is your construction firm still tied to paper documents and file cabinets to manage your business records? If you're not using the cloud to manage your documentation, your data is one disaster (fire, flood, human error) away from being lost forever. The cloud is an essential component to any backup and recovery plan, allowing your business to recover your data quickly should disaster strike.
Moreover, by migrating your records to the cloud, you increase your ability to incorporate various productivity tools to assist you in managing your flow of information. While effective communication is vital for any business, some industries (such as medical, legal, and construction) run the risk of miscommunications that can profoundly affect the company and your customers.
Maryland Construction Companies; Are You Ready to Grow Your Business?
When considering a technology partner, you should make sure they have the breadth of experience to give your business the support you need to keep your business growing.
At Dresner Group, we understand your challenges. Our IT services can help your business treat your technology as an investment in your future and not a liability. To recap, some benefits we offer to help keep your workflow moving efficiently are:
Support for all the technology you use in the office and on the worksite
Mobility solutions to keep your team communicating
Assistance with your specialized software packages
Readily available IT support to meet your needs
Ongoing technology maintenance to ensure that your IT is ready when you need it
All-hours availability guaranteeing that you can reach us whenever you need to.
As Baltimore's construction boom continues, don't leave your business struggling to complete. Take advantage of managed IT's unifying effect on your technology and ability to increase productivity and business growth. Call 410-531-6727 today to learn more about managed IT and how it can benefit your business.
Comment for this post has been locked by admin.
By accepting you will be accessing a service provided by a third-party external to https://www.dresnergroup.com/