It's Time for Maryland to Embrace Online Learning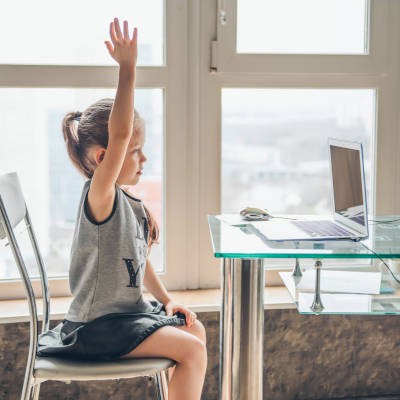 The current coronavirus crisis has forced Maryland schools to close. While there is currently no decision (at the time of this writing) whether or not schools will remain closed for the year, one thing is certain: this crisis highlights that the way we provide education to our students needs to be changed.
Educational Concerns In Maryland
Currently, schools in Maryland are closed to reduce the spread of the coronavirus as part of the Governor's stay-at-home order. While originally schools were to be closed until March 27th, as the virus progressed through Maryland, the date for schools to be re-opened has been pushed back. One effect of this extension has been the realization that many Maryland school districts are unprepared to provide remote learning to their students, especially in the long-term.
While State Superintendent Karen Salmon directed administrators, teachers, and staff "to immediately prepare for and to put into place measures for the continuity of educational services during a prolonged period of school closure," many school districts simply don't know how to start the process to educate over one million school-age children remotely.
Some concerns surrounding online learning are the lack of broadband and access to computers in rural and urban communities, and inadequate technology training for educators. While it can seem to be a daunting task, school districts don't have to recreate the wheel, the same technology that we've been helping local businesses use to mobilize their workforce often works for educators.
Now is the Time to Invest in IT for Your School
Gov. Larry Hogan's spokesperson, Mike Ricci, addressed Salmon's remarks in a tweet on Wednesday: "To be clear, we have not made any new determinations related to the school calendar. At the same time, we are taking active steps now to prepare for potential future needs, and this includes a focus on enhancing distance and online learning."
What this statement should tell us is that regardless of when the schools are reopened, this should be a wake-up call to all Maryland school districts to invest in their ability to provide quality instruction remotely. When we talk about the new normal, the need of schools to be able to provide quality education online is now a requirement.
If you're unsure of what services you may need, here are some of the services we can offer your organization:
IT and Bandwidth Consulting - Our IT professionals can help your organization find the IT services and solutions you need to produce results, within your budgetary constraints.


Hardware and Software Procurement - With our multitude of vendor relationships, we provide the access to hardware and software solutions you need, as well as the expertise in deploying these solutions efficiently and safely.


IT Support - we have a full cache of support services, including Helpdesk and Network Monitoring that can allow your on-campus IT department the freedom to innovate, without the concern of continuous support taking up resources and time.


Mobile Device Integration - We understand both the benefits and detriments that mobile devices can be to an organization, and can help you determine what mobile policies work best for your school.
At Dresner Group we can help your school leverage its IT assets into a dynamic workplace for your educators and an equally dynamic learning experience for your students. Call us today at 410-531-6727 to learn more about IT for educators and technology for the classroom.
For additional guidance, resources and updates about Maryland schools and COVID-19, visit Mayland's Department of Education COVID-19 resource page.
Your Business Can Still be Productive During These Trying Times
Even if you're not an educational institution, our expertise in supporting remote workers and telecommuters can help your business to be productive. When you take advantage of a remote workforce, closing your office doesn't mean you have to close your business. To further assist you, we have best practices specific to this crisis, such as ways to optimize remote productivity, and how comprehensive IT support is now more important than ever.
Finally, though it's an unpleasant thought to consider, the reality of this virus is that you need to think about business continuity and plan for the many scenarios that will disrupt your everyday operations. Call 410-531-6727 today to learn how we can help you keep your business open, even when your office is closed.
By accepting you will be accessing a service provided by a third-party external to https://www.dresnergroup.com/