Maryland's Top Three Crucial Tech Support Pillars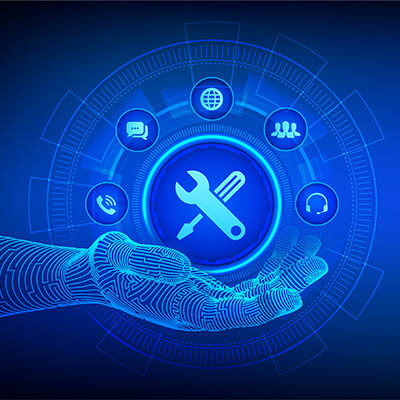 Be honest with us: when you hear the phrase "tech support," what comes to mind? If your thoughts turn exclusively to painful phone calls or a guy coming over to bill you by the hour to fix a broken PC, we want to show you a better way. Managed IT offers far more than just that. Let's go over three aspects of managed IT that are crucial to Maryland small businesses, and help keep your operations running smoothly.
Cybersecurity
With so many threats now posed against Maryland businesses of all sizes, cybersecurity is a crucial aspect for all organizations to focus on. Managed services take the onus off of the business by helping to ensure that they are properly locked down and protected against threats through a wide variety of tools, solutions, and practices. While this is just a very small sample, these include:
Phishing Awareness and Prevention Training - Phishing—the theft of data or access through deception—is a very common means of cybercrime nowadays, making it all the more crucial that a workforce is able to recognize and respond to it appropriately.
Identity Management and Authentication - On a related note, a business needs to be sure that their data and other resources are not accessible to those without authorization. By holding your team accountable to password best practices, enforcing two-factor authentication requirements, and otherwise putting minimum requirements on your team members, you help protect your business from attack.
Spam and Content Filtering - Unless it comes in a can (or is found in a Monty Python sketch, referencing the stuff in the can) spam is a universally bad thing...particularly for businesses, who often receive large quantities of emails each day. In addition to this oncoming threat, the Internet is almost as problematic for businesses as it is helpful. Amongst the useful tools and data found online are countless websites that share irrelevant and inappropriate content that has no place in your business. Implementing the filters needed to keep this kind of stuff out is therefore crucial.
Cloud Migration
There are a lot of benefits that migrating to the cloud can offer a business by default, which only makes sense. After all, why else would a business ever do it? The assistance of a managed service provider enables businesses to take advantage of a wide assortment of tools and resources based in the cloud, such as (among others):
Virtual Servers - While servers are essential for many business purposes and processes, the actual physical infrastructures necessary can be a lot to manage. Virtualized servers, hosted in the cloud, can take the weight of this management off your team.
Productivity Tools - In order to accomplish anything in the workplace, team members need the right solutions. Moving these solutions to the cloud help to increase their availability, freeing your team members to work from more places.
Collaboration - Collaboration is a key part of the modern workplace, especially considering/despite the rise in remote work. Utilizing the cloud helps to simplify this for the reasons we discussed above. We can ensure your team is prepared to do so.
Managed IT Services
Of course, we can't discuss aspects of managed IT without touching on the benefits of the essential services incorporated into managed IT. These services cover a swath of needs in a way that makes your use of your business' technology more efficient, more stable, and as a result, more successful:
Computer Hardware Maintenance and Support - Things break… that much is a fact. Managed IT ensures that your business has an option to find repair services should its hardware encounter an issue or some need for diagnostics.
Software Licensing and Management - Software is an important part of a business' potential for productivity, but in order to use it, the usage licenses need to be in order. We can work as the go-between between you and your vendors to ensure that you are always equipped with the tools you need.
Dresner Group's Help Desk - Regardless of how capable your team members are at their jobs, they will eventually need some form of assistance with the technology they use to do these jobs. We provide a help desk that is dedicated to getting your team members this assistance as often as it is required.
This is just a brief sampling of what we can accomplish for you as Columbia, Maryland's premier managed service provider. Interested in hearing more, or in signing on to these services? Give us a call at 410-531-6727 today.
Comment for this post has been locked by admin.
By accepting you will be accessing a service provided by a third-party external to https://www.dresnergroup.com/