Veterinarians Need to Prioritize Their Security Solutions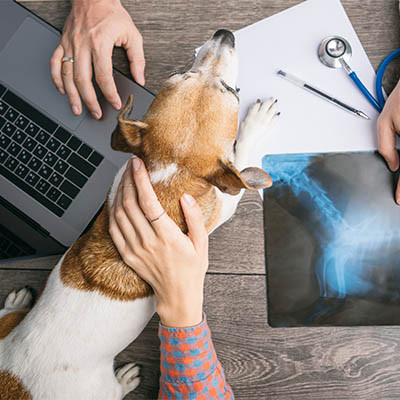 We've long offered the tools that veterinarians can and should use to optimize their processes, including their security. We wanted to take a few moments to dive into the various threats that today's veterinarians need to prepare for, and how the right IT can help them to do so.
In Today's Threat Landscape, Everyone's at Risk…
This includes Maryland veterinarians. Consider ransomware alone for a moment.
Ransomware is a form of cyberattack that, once it has gained access to a system or network, encrypts it so that the data on it is no longer accessible. The victim is then given a choice: pay up within a certain timeframe, or the data will be destroyed. This has been proven to be a lucrative attack for cybercriminals, as many businesses and organizations end up paying the ransom. Cybercriminals are just getting more and more crafty with these attacks to make them even more effective. Nowadays, ransomware will frequently demand a payment to unlock the data, and if that one is paid, make another demand with the threat of leaking this data. Unfortunately, ransomware attacks are on the rise in Maryland.
These kinds of attacks can, and do, create significant issues for businesses. Let's consider these issues through the lens of a veterinarian, and a few other safeguards that these specialized healthcare providers should prioritize in response.
Issues that Veterinarians Can See From Cyberthreats
Network Unavailability: When a ransomware attack strikes, it can prevent your team from accomplishing anything. This is simply because everything your practice needs to accomplish will heavily depend on its access to data. Accessing appointments, client information, and other essential business data is most likely impossible while infected with ransomware, which makes it absolutely crucial that you avoid it. As ransomware is commonly spread through phishing emails, understanding how to identify and avoid phishing attempts will be essential for your practice to focus on in its security training.
Access Privileges: Given the kind of data that will be on your network, including payment information and other sensitive details, it is important to keep access to it limited to those that actually need it for their roles. Doing so will be important to protect against external threats, as well as any possible threats that come from your internal team members and your vendors. One best practice is to use admin accounts to control your network.
Your Data Needs to Be Protected, Even If Threats Strike
Of course, regardless of the security measures you have in place, there is always the chance that something slips by. In these cases, you'll want to have a backup plan to fall back on.
A data backup will be a critical element of your overall security, as it will give you the opportunity to recover should your protections fail. We've spent a lot of time going over the various practices that you need to follow as you implement a backup, so check out some of the critical points we've gone over in our other blogs. Such as:
We Can Help You Secure Your Practice Against Threats
We love our pets, and we want them to always get the care and attention they need from Maryland veterinary practices. We hope that your practice never comes face to face with the increasing number of cyberattacks, but if it does happen, we hope your IT security is prepared for it.
Find out more about managed IT and what we can do for your veterinary practice (or whatever business you own) today by reaching out to us today. Give us a call at 410-531-6727.
Comment for this post has been locked by admin.
By accepting you will be accessing a service provided by a third-party external to https://www.dresnergroup.com/